PFAA: Manami Lingerfelt on display Historic Courthouse Gallery & Studios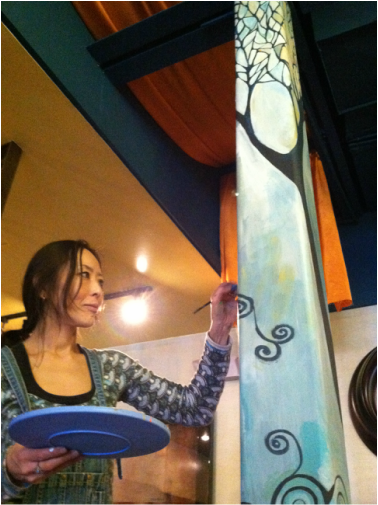 We are pleased to present to you The Art of Manami Lingerfelt of Dallas Georgia! Ms. Lingerfelt's work will be on display between January 10 and March 1, 2019 in the Courtroom Gallery of the Historic Courthouse Gallery & Studios located at 11 Courthouse Square in Dallas in the OLD Paulding Courthouse Building - we are on the 2nd floor. A reception to honor this amazingly talented artist will be held Saturday, January 19th between 4:00pm and 6:00pm. The public is cordially invited to attend. Our regular gallery hours are Thursday through Saturday, 10:00am to 4:00pm. Ms. Lingerfelt was born in Japan and grew up in Tokyo, graduating from Tokyo Musashino Art College in 1985. She began her art career in Tokyo, Japan as a graphic designer and illustrator with major magazines and newspapers. However, she became increasingly displeased with her career and her life and decided to explore the world, dwelling briefly in places such as India, Nepal, Sweden and other parts of Asia and Europe from 1987-1997. In year 2003 she moved to America with her first born daughter Maria to begin a new career as an artist. She graduated College of the Arts (COTA) at Kennesaw States University, GA, U.S.A. 2015. She now calls Dallas, Georgia home. Manami has produced hundreds paintings inspired by the love of life and the happiness that now fills her heart. She has been featured in exhibits in both the United States and Japan and is a continuing participant in art shows and in publications. We are proud to present her work to you!
http://www.pauldingfinearts.org for complete information.