Silver News & Views donated a cornhole set to the senior center in Dallas in mid-February. The magazine is donating a total of 15 games to senior centers all over West Georgia.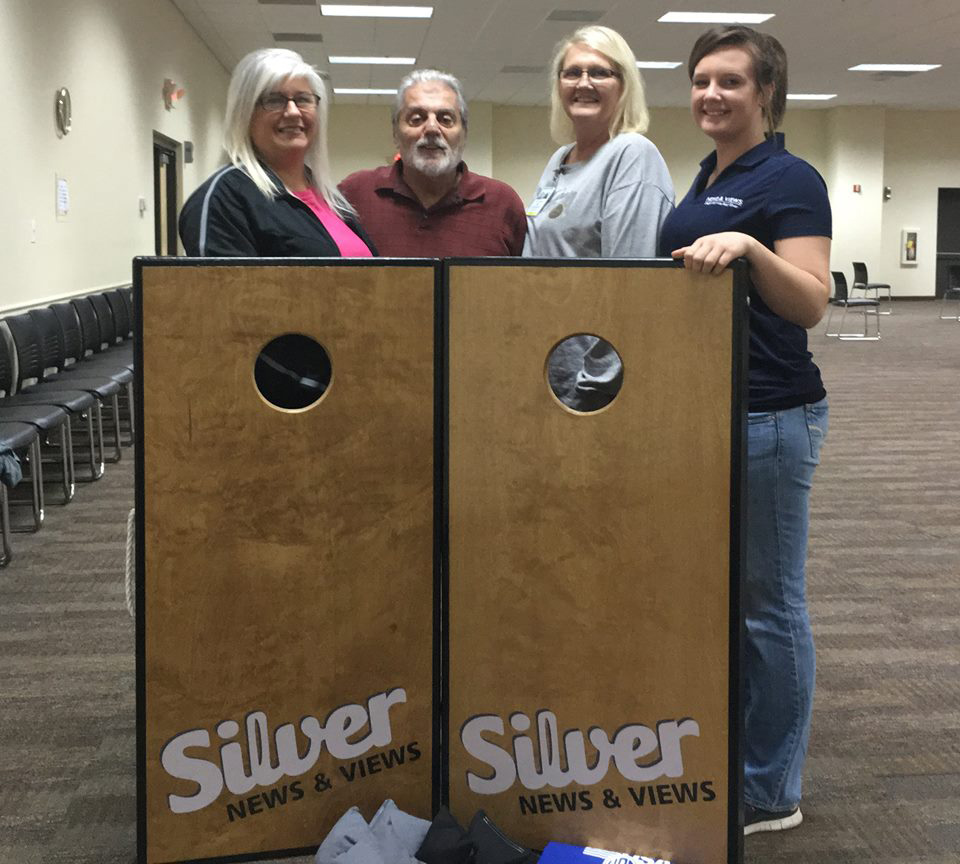 Paulding County Senior Program Coordinator Rhonda Eme, Paulding Senior Center Director Betty Roach, and area senior Gus Fioretta joined Silver News & Views Keely Sharp at the Paulding County Senior Center.
When presented with the cornhole set, the seniors and staff at Paulding County Senior Center were all quite thrilled to have a new game to play. They were very appreciative and could not wait to set it up to start playing.
Silver News & Views publisher Tim Collins came up with the idea to donate corn hole units because he knew the game was very popular in the senior community. The arrangement was a "win-win-win" for all parties involved. West Georgia Cornhole received a large advertising credit and exposure, the 15 senior centers received a very high quality corn hole set to provide recreation for their clientele, and Silver News & Views was able to provide something that seniors will enjoy for many years, and that they will associate with the magazine.
Silver News & Views is the newest of three publications published by News & Views USA, Inc. The company started in 2000 with Chapel Hill News & Views, and added Villa Rica News & Views in 2008. Silver News & Views began in 2015, and covers a five county area, serving the population that is age 55 and up. The publication comes out quarterly and has 20,000 circulation with approximately 500 distribution locations, which can be found at www.silvernewsandviews.com .
West Georgia Cornhole, located at 7811 Conners Road in Winston, manufactures cornhole sets and ships them all over the world. Chairman Worthan referred to the sets as the "Cadillac of cornhole boards" because of the solid construction and beautiful craftsmanship of the solid wood sets. Owner Brandon Greba built his first board in 2011 as a favor for a friend, and word and demand quickly spread. The company can build custom boards for any occasion, and can even include photos on the boards. For more information, you may reach them at 770-265-8466, or visit their website at www.westgeorgiacornhole.com.