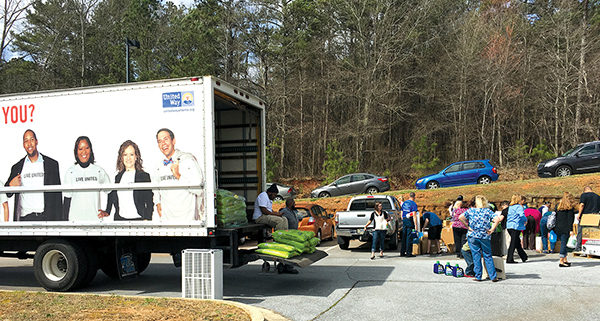 In the morning of March 10, 2016, a crowd grew at the Paulding Board of Education after the monthly Paulding Family Connection Children's Cabinet led by Juvenile Court Judge Sandra Miller and Nina Lauter, Coordinator of the Children's Cabinet. Why the commotion? The United Way Gifts In Kind truck was coming, a quarterly event that supplies non-profits with much needed supplies for their offices and client services alike.
The United Way Gifts In Kind program acts as a pipeline for donations to flow from contributors to community agencies. "This is such a great way to connect with Paulding non profits working hard to to create long-term positive impact in the community," said Catherine Owens, Regional Director at United Way of Greater Atlanta. "Through Gifts In Kind, United Way can show our support and contribute to their efforts."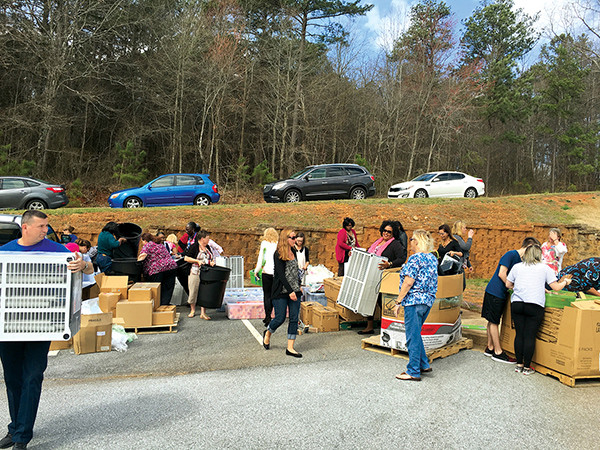 Organizations can "shop" the event for items as simple as printer paper to help offset office overhead, or clothes, toiletries and personal care items for populations they directly serve. Providing a business solution to donors by giving full fair-market value in tax deductions for goods donated, United Way's Gifts In Kind then makes those donations available to member 501(c)(3) organizations to use in their offices or give to clients free of charge.
With Gifts in Kind, nonprofits can make what they have go even further. The next event will be held in May 2016, for more information .
About United Way of Greater Atlanta
Our United Way is one of the largest in the nation. Our purpose and mission is focused on convening caring individuals to create the change necessary for building stronger communities. We invest in more than 200 programs in 13 counties through the United Way Impact Fund and connect people with resources they need to thrive – jobs are more abundant, schools are performing, healthcare is accessible and communities are safe places to live. For more information, visit unitedwayatlanta.org.