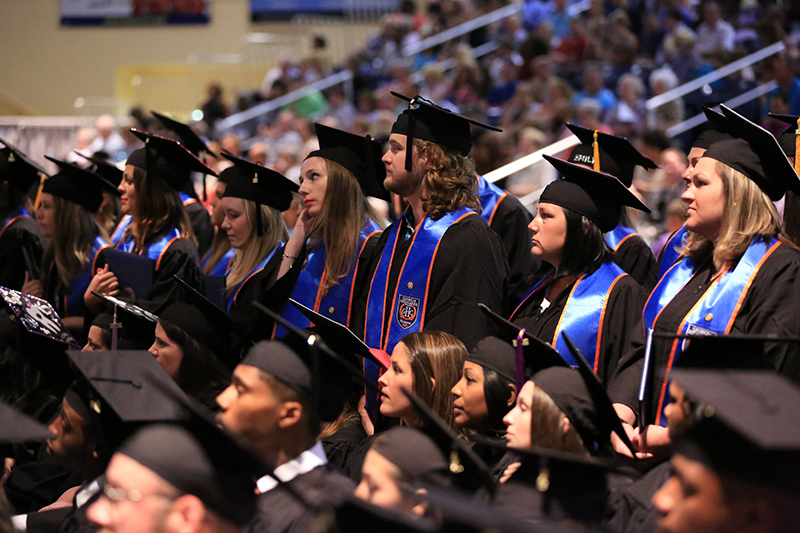 Former President/CEO of Harbin Clinic to give commencement address. Georgia Highlands College Commencement will be held on Saturday, May 7th, at The Forum in downtown Rome. The nursing pinning ceremony will be held at 10AM and the graduation commencement will be held at 1PM. Approximately 642 students have applied for graduation.
The faculty has chosen Dr. Harvey Moody as the 2016 Mace Bearer and Marjorie Frazier as the recipient of the Wesley C. Walraven Faculty Award.
Former President/CEO of Harbin Clinic Dr. J. Paul Ferguson will give the commencement address.
Regent E. Scott Smith will also bring greetings from the Board of Regents.
On the floor of the Arena will be reserved seating for staff and invited guests. Free parking is available at the Third Avenue Parking Deck (adjacent to the Forum) and West 3rd Street parking lot (across the bridge from the Forum). Shuttle service will be available throughout the day from Broad Street, all the parking decks, and West 3rd Street.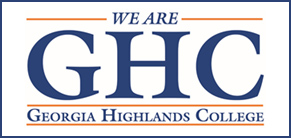 Commencement Speaker
J. PAUL FERGUSON, M.D.
J. Paul Ferguson practiced Neurosurgery for over 30 years with 26 of those years in Rome, retiring as the President/CEO of the Harbin Clinic. He is a native of Waycross, Georgia, and received his B.A. and M.D. from Emory University. He completed his Neurosurgery Residency at the Medical College of Virginia in Richmond. He also received a NIH Fellowship in Neurophysiology at Washington University.
During his professional career, he served as President of the Neurosurgical Society of America, the Georgia Neurosurgical Society and the Floyd-Polk-Chattooga Medical Society. He was on the faculty at the University of North Carolina School of Medicine, Dept. of Neurological Surgery, and later at The Geisinger Medical Center. He served in the U.S. Army Special Forces as a Captain in Vietnam War and was awarded the Bronze Star, Air Medal, Combat Medical Badge, Vietnamese Honor Medal and other military awards. He has two sons, Jay and Drew Ferguson, and five grandchildren. His hobbies are fly fishing, traveling, community activities and being with his grandchildren.
Student Speaker
Holly Chaney
Holly Chaney is currently a Georgia Highlands College sophomore and a general studies major, attending classes on both the Douglasville and Floyd campuses. She began her journey at GHC in 2013 as a non-traditional student and has since found success and involvement with the Six Mile Post, Student Government Association, Phi Theta Kappa, The Georgia Press Association, the USG Student Advisory Council, Post-Raphaelites, and Emerging Leaders. After GHC, Holly plans to attend Georgia State University, where she will seek a Bachelor's in Law and Society. After completing her Bachelor's, Holly plans to go on to study law with the hope of a future working in rights advocacy and social change. She is currently a Douglasville resident, but is a native of Pensacola, Florida. In her free time, Holly enjoys painting, drawing, sewing, woodworking, and spending time with her husband, Matthew, and her two boys, Elijah and Jacob.
Wesley C. Walraven Faculty Award
Marjorie Frazier
GHC faculty members selected Marjorie Frazier, professor of nursing, to receive the Wesley C. Walraven Faculty Award to honor her years of service and leadership at GHC. The Walraven Award is named in memory of Dr. Wesley C. Walraven, the academic dean at the then Floyd Junior College from its founding in 1970 until 1993. His most memorable assets included an unselfish dedication to students, a quietly focused management style, and keen intelligence. Considering those traits, it is particularly appropriate for Marjorie Frazier to receive this honor. She originally came to Floyd Junior College (now GHC) as a student in 1979 where she graduated with her Associate of Science in Nursing in 1982. She began teaching as an assistant campus lab coordinator in 1986 as she prepared to return to school at Emory University. Frazier completed her Master of Science in Nursing at Emory in 1991 and returned to Floyd College as an assistant professor from 1991 to 1993. From 1993 to 2002, she worked at local nursing homes and hospitals as a Nurse Practitioner specializing in the care of older adults. She returned to GHC in 2002 as an associate professor of nursing. She serves as the lead advising specialist for the Health Sciences division, is the coordinator for Fundamentals of Nursing and the LPN and Paramedic Bridge to professional nursing courses, and has served on many advisory boards and speaker panels for state and national organizations.
Mace Bearer
Dr. Harvey Moody
GHC faculty members selected Blanca Gonzalez, associate professor of mathematics, to carry the mace this year to honor the many years of dedicated service that she has given to the college. The Georgia Highlands College mace was designed by David Mott, retired associate professor of art, and Dr. David Cook, retired professor of biology.
The mace, a great and splendid staff, is actually a club and a symbolic weapon. Medieval universities would not defend themselves with the sword. It was not considered appropriate for gentle scholars to draw blood, but they could defend themselves using a cudgel. The mace has come to stand as a symbol for two critical matters. First, it stands for the freedom of the academy to seek the truth and to teach it. It also stands for the authority of the academy. The mace makes the statement that the academy must protect the ideals of order, liberty, and the freedom to learn.
Dr. Moody came to GHC in 1995 as an Assistant Professor of Chemistry. He was promoted to Associate Professor in August 2000, received tenure in August 2001, and Professor in 2005. He holds a Pd.D. in Chemistry from the West Virginia University and a Bachelor of Science in Chemistry from the University of North Carolina in Chapel Hill.
Featured Graduate
Danyelle Blankinship
Danyelle Blankinship is one of the approximately 642 students graduating this May at Georgia Highlands College. She is originally from Canton, Georgia. She holds a 3.74 GPA and has been on the Dean's List every semester. Danyelle was Team Captain for the Lady Chargers basketball team for the 2015-2016 season. She helped lead the team to its first ever region championship and national tournament showing. She will be graduating with an Associate of Science in Biology and will next attend the University of North Georgia on a basketball scholarship for the next two years, where she aims to earn her Bachelor of Science in Biology. Once she has finished there, she plans to pursue a veterinary career by attending veterinary school. Danyelle said she chose GHC because it was close to home, had smaller, more personal classes, and for its athletic program.