A Full Day of Family Activities Being Offered by Kiwanis Club of Paulding County and Paulding Chamber of Commerce Eat breakfast, network and learn…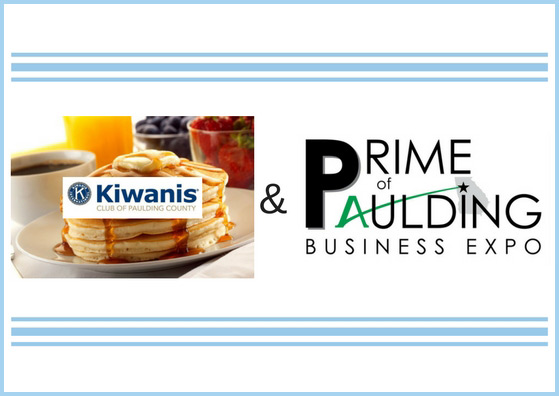 Dallas, GA - Our Flapjack Fundraiser on Saturday, November 5, 8:00 – 10:00 AM at Applebee's, 5149 Jimmy Lee Smith Parkway in Hiram will provide the tools necessary to establish a community garden at a Paulding County Title I school. For only $5.00 per person, you will dive in to pancakes, sausages and drink served by the members of our club. The community is invited for a scrumptious breakfast; ask any Kiwanis Club of Paulding County member for more details and tickets.
Then, it gets even better…
Starting at 10:00 AM until 2:00 PM, go to the Paulding County Chamber of Commerce - Georgia Prime of Paulding Business Expo at Westridge Church, 3522 Hiram Acworth Highway in Dallas. This is a new kind of business showcase designed to bring businesses, restaurants and community residents together in a fun and casual networking environment.
The expo will be sectioned into five components to better promote our business participants:
Prime of Life participants: those whose services are geared toward residents age 55 and older
Vendors Alley featuring home based businesses offering direct on-site sales of goods and services
Sponsorship Spotlight area in the center atrium surrounded by various vendors and participants
Children's Cove is a children's activity area with snacks and activities filled with businesses who target youth
Taste of Paulding section to feature complimentary food samples as well as on-site food sales.
Free to the Community, attendees will enjoy live music, giveaways, and door prizes. The Prime of Paulding is an excellent opportunity to learn about products and services being offered and we are pleased to promote a "buy local shop local initiative".
Kiwanis Club of Paulding County meets on the third Thursday at 7:00 PM at the Paulding Chamber of Commerce, 445 Jimmy Campbell Parkway, Dallas. Everyone is invited. For information, call Herb Silverman at 678-232-0009.
About Kiwanis
Founded in 1915, Kiwanis International is a global organization of members dedicated to serving the children of the world. Kiwanis and its family of clubs—including Circle K International for university students, Key Club for students age 14–18, Builders Club for students age 11–14, Kiwanis Kids for students age 6–12 and Aktion Club for adults living with disabilities—dedicate more than 18 million service hours annually to strengthen communities and serve children. The Kiwanis International family comprises nearly 600,000 adult and youth members in 80 countries and geographic areas. For more information about Kiwanis International, please visit www.kiwanis.org.