Kiwanis Club of Paulding County Goes on the Dogs with the First Annual "Bark in the Park"
[Dallas, GA (December 1, 2016)] – Mark your calendar and bring your dogs for our Kiwanis Club of Paulding County First Annual "Bark in the Park", Saturday, March 25th from 9:00 AM to 3:00 PM at the Dog Woods at Coleman Camp Park in Dallas! Fun for everyone, this signature project from our club will be a doggy expo, local Paulding vendors, food court and so much more!
To prepare, KCofPC Secretary Susan Browning, Board Director Sandy Kaecher, President Phyllis Silverman, President Elect Robin Stern and Board Director Matthew Newsom look at the surroundings of the area on the map to indicate all of the activities that the wonderful event will do. As Ms. Silverman commented, "We will have lots of activity including a doggie parade, obedience examples, face painting for the kids and so much more. It will be a terrific event - Kiwanis Kids and dogs – the perfect mix!"
More details will come soon…
Kiwanis Club of Paulding County meets on the third Thursday at 7:00 PM at the Paulding Chamber of Commerce, 445 Jimmy Campbell Parkway, Dallas. Everyone is invited. For information, call Herb Silverman at 678-232- 0009.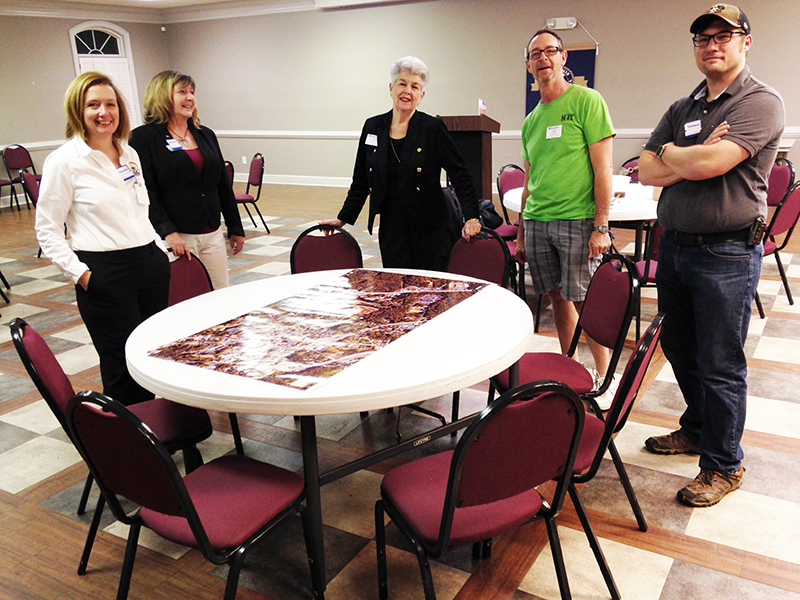 About Kiwanis
Founded in 1915, Kiwanis International is a global organization of members dedicated to serving the children of the world. Kiwanis and its family of clubs—including Circle K International for university students, Key Club for students age 14–18, Builders Club for students age 11–14, Kiwanis Kids for students age 6–12 and Aktion Club for adults living with disabilities—dedicate more than 18 million service hours annually to strengthen communities and serve children. The Kiwanis International family comprises nearly 600,000 adult and youth members in 80 countries and geographic areas. For more information about Kiwanis International, please visit www.kiwanis.org.