Paulding Chamber honors Public Safety Officials at Georgia Power Luncheon Sept. 7th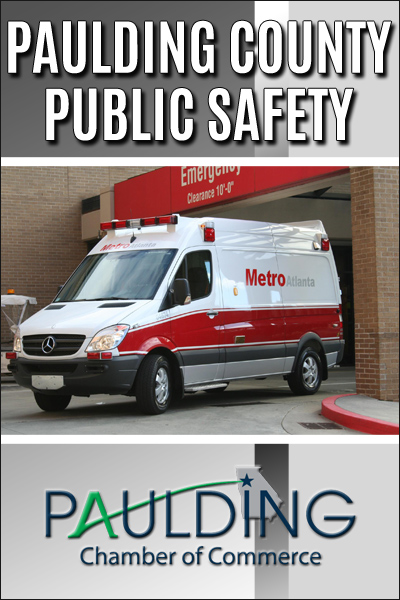 The Paulding Chamber of Commerce will continue our tradition of honoring local public safety officials for their outstanding service at our Georgia Power Luncheon on Thursday, September 7th . The September Georgia Power Luncheon, sponsored by Metro Atlanta Ambulance Service will feature awards presentations to individuals from the Paulding County Sheriff and Fire Departments, Marshall's Bureau, District Attorney's Office, E911 Center, the City of Dallas Police Department, the City of Hiram Police Department and Metro Atlanta Ambulance Service. All of the award recipients will be submitted by the leaders of their organizations and it is our pleasure at the Paulding Chamber of Commerce to be able to publicly recognize each of these outstanding heroes for their commitment and dedication to the citizens they serve.
In addition to the awards, attendees will be in for quite a treat as this year's program will include educational and interactive demonstrations from our Public Safety Heroes. The Paulding County Sheriff's Office K-9 Division is comprised of three dual purpose canine teams. Each team consists of a Deputy and a canine partner. The Sheriff's Office utilizes the Belgian Malinois breed for all of its canines. Each canine is trained in narcotics detection as well as patrol functions. Patrol functions consist of tracking, area searches, building searches, article searches, and apprehension. K-9 teams undergo rigorous training every year in order to keep their skills at the maximum level. We can't wait to see these incredible canines and their handlers in action. Georgia Power Luncheon attendees will also experience a demonstration from the Paulding County Sheriff's Department SWAT team that will give us all a better appreciation for what our front-line heroes go through every day.
Reservations are requested and can be made by contacting the Paulding Chamber at 770.445.6016 or by visiting www.pauldingchamber.org. The cost of the luncheon for Chamber members is $20 if preregistered and $25 at the door. Non-members are $25 if preregistered and $30 at the door. Sponsorship tables for 10 are $225 with program recognition. Visa, MasterCard and American Express are accepted and all no shows will be billed. Walk-ins are not guaranteed a seat.