Prime of Paulding 57th Annual Awards Celebration 2018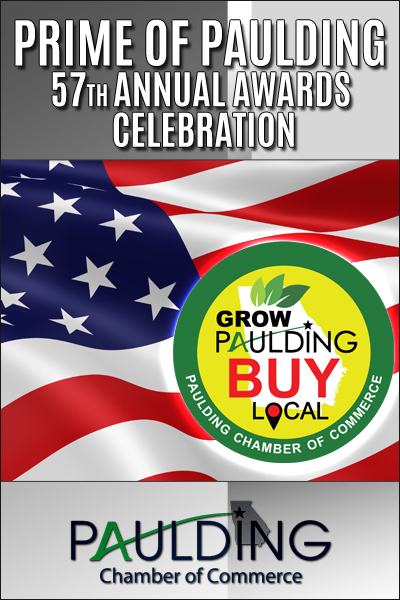 The Paulding Chamber of Commerce will host their Prime of Paulding 57th Annual Awards Celebration, presented by GreyStone Power Corporation, on January 20, 2018, at the Hilton Atlanta Marietta Hotel and Conference Center. Recognition of Citizen of the Year, Business of the Year, Non-Profit of the Year, Community Partner of the Year and many others will all be part of this fun-filled night. The Little Jazz Band is returning by popular demand to provide the entertainment and the Silent Auction is expected to be the largest in the history of the Paulding Chamber of Commerce.
The Annual Awards Gala is the Paulding Chamber of Commerce's largest fundraising event of the year and one of the most highly anticipated events in our region. More than 300 people will be in attendance as we all come together for one common goal to "Help Paulding Prosper." The funds raised at the Prime of Paulding Annual Awards Celebration are reinvested into our members as we create programs, events, and educational opportunities to help them grow.
As we celebrate the award winners, Board of Directors, Chairman's Club and volunteers who lead the way to help us achieve our common goal, we also take time to reflect with gratitude on those who helped us pave the way including our outgoing board members. The Paulding Chamber of Commerce would like to thank outgoing board members Christine Mullinax, Bryan Dobbs, Nadia Faucette, Samantha Glass and Sandy Kaecher for your dedication and commitment.
Special thanks also to our Sponsors for making this extraordinary night possible. The Sponsors include our Presenting Sponsor GreyStone Power Corporation, Entertainment Sponsor MembersFirst Credit Union, Dessert Sponsor WellStar Health System, Decor Sponsor Mayes Ward-Dobbins Funeral Home, Coat Check Sponsor Georgia Power Company and Award Sponsor AT&T. Prime Sponsors include Chattahoochee Technical College, Paulding County Board of Commissioners, Metro Atlanta Ambulance Service, LGE Community Credit Union, MBP, Hardy Automotive Group and Croy Engineering.
A limited number of reserve tables and seats are still available by calling Event Coordinator John Grey at 770.445.6016 or .