2017 Paulding Chamber Award Winners Recognized
More than 300 business and community leaders filled the Hilton Atlanta Marietta Conference Center on Saturday, January 20th as Chamber President Stacy Hamby welcomed them in for The Paulding Chamber's Prime of Paulding 57th Annual Awards Celebration presented by GreyStone Power Corporation. The highly anticipated event was a huge success as 9 award recipients were honored, 3 new board members were introduced and the gavel was passed from 2017 Chairman of the Board Mike Mason to the new Chairman James Wright.
Past-Chair Mike Mason with Mason Law Group thanked and recognized outgoing board members Bryan Dobbs with Dobbs Defense, Kenny Edwards with Exceed Enterprise, Nadia Faucette with GreyStone Power Corporation, Samantha Glass with All Print Marketing and Media Solutions, Sandy Kaecher with Aflac and Christine Mullinax with Cobb EMC. Mike Mason also presented current board member Lesley Newland with Lighthouse Investment Advisors, Inc. the Chairman's Award for her exceptional dedication and service.
Paulding Chamber of Commerce's new Chairman of the Board James Wright with GreyStone Power Corporation welcomed new board members Odessa Archibald with Georgia Power Company, Matt Jones with Carroll EMC and Brian Stover, owner of BLD Roll-Off Containers.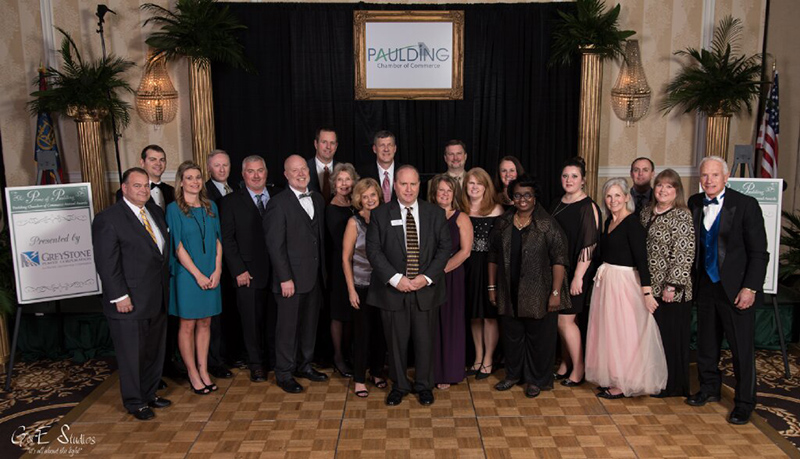 The Prime of Paulding 57th Annual Awards Celebration is the Chamber's largest fundraiser event of the year and we sincerely appreciate our sponsors for their support. Special thanks to our Presenting Sponsor GreyStone Power Corporation, Entertainment Sponsor MembersFirst Credit Union, Reception Sponsor Turner Construction, Dessert Sponsor WellStar Health System, Decor Sponsor Mayes Ward-Dobbins Funeral Home, Coat Check Sponsor Georgia Power Company and Award Sponsor AT&T. K. Mike Whittle Unique Floral Designs did all of the decorations and made the place look fabulous. Prime Sponsors included Chattahoochee Technical College, Paulding County Board of Commissioners, Metro Atlanta Ambulance Service, LGE Community Credit Union, MBP, Hardy Automotive Group and Croy Engineering.
The Award winners were recognized in this order:
2017 Ambassador of the Year - Stephanie Row with Omega Bank Card Services
2017 Nonprofit of the Year – Paulding Fellowship of Christian Athletes
2017 Horizon Award – Bryan Dobbs with Dobbs Defense
2017 Small Business of the Year – G&E Studios
2017 Business of the Year – Ragsdale Heating Air Plumbing Electric
2017 Community Partner of the Year – Hardy Automotive Group
2017 Citizen of the Year – Sam Elrod
A Pillar Award was presented posthumously to the family of Earl Cunningham. A Pillar Award was presented posthumously to the Paulding Board of Commissioners on behalf of Earl Duncan. The award will be displayed at Earl Duncan Park.
For more information:
John Grey
Director of Events and Communications 770.445.6016 email: