Schools Superintendent Dr. Otott Keynote Speaker at Chamber Luncheon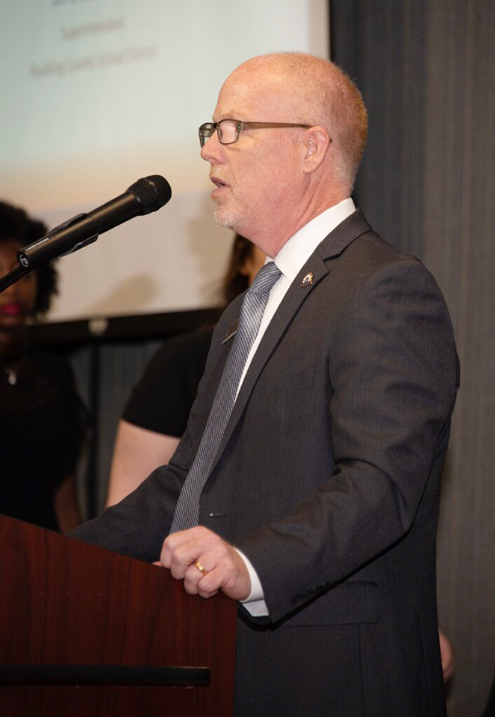 Paulding County School District Superintendent Dr. Brian Otott delivered his first 'state of the schools' address since taking over as superintendent at last week's Chamber Luncheon in Dallas. Otott, who took over from Cliff Cole last year, was appointed interim Superintendent in June. Dr. Brian Otott is now the Superintendent of the Paulding County School District and has served his entire educational career in Paulding County.
Prior to being named Superintendent, Dr. Otott served as the school district's Associate Superintendent, overseeing the day-to-day operational departments of the district. He also served as the Executive Director of Elementary Schools and Assistant Superintendent.
Before his work at the central office, Dr. Otott served in a variety of roles at the Paulding County School District, including classroom teacher to principal of three of the district's schools. He was the inaugural principal of three new Paulding County schools and navigated the logistical challenges of housing students on multiple campuses while facilities were being completed.
Dr. Otott has served a variety of organizations on their Board of Directors, including the Rotary Club of Dallas. Paulding's school system has 34 schools, 19 elementary, nine middle and five high schools serving 30,000 students and projected to grow about 1.1 percent next year, which is the 13th largest district in the state.
Otott said that the school system is planning for growth and about 500 additional students are expected in the next year. But Otott said the recent economic downturn enabled to a system to catch up to current growth and many add-on buildings are not currently in use as classrooms.
The graduation rate is at 84.8 percent, which exceeds that of the state by 4 percent, he said. The system is into their budget process, which Otott says is looking brighter, and expecting an additional 18.4 mill in revenue. The budget for FY2018 was just over 257 million and goes mostly to staffing with about 88 percent spent going to personnel. The school system continues to be the largest employer in the county. Revenue to the district comes from local and state, with about 29 percent from local taxes and the state providing 69 percent. And Paulding's Chamber of Commerce hosted the Leadership Paulding 28 Graduation during last week's event. Leadership Paulding's purpose is to provide emerging leaders with a greater awareness of and participation in community issues, needs, services, and resources.
Paulding County Superintendent Dr. Brian Otott spoke to Paulding business leaders last week in Dallas. Hiram High School Harmonics performed at last week's Chamber Luncheon in Dallas. Paulding's Chamber of Commerce also hosted the Leadership Paulding 28 Graduation during last week's event in Dallas. (All photos courtesy: Paulding Chamber/G&E Studios)