Paulding WellStar President Kueven Keynote Speaker at November Chamber Luncheon
Paulding's Chamber of Commerce hosted their November Georgia Power Luncheon in Dallas last week. WellStar President John Kueven was the keynote speaker.
Kueven, a veteran hospital administrator, took over at WellStar Paulding Hospital in March as senior vice president and president of WellStar Paulding Hospital. Kueven oversees the day-to-day operations of the 112-bed hospital facility in Hiram and 182-bed skilled nursing center in Dallas.
Kueven spoke to Paulding business leaders about Paulding WellStar and also offered a broad perspective on current issues throughout the healthcare industry, as well as a look at upcoming legislation that WellStar is monitoring in next year's session of the General Assembly.
"These are things we're focusing on and thinking through as an organization," Kueven said.
Some proposed legislation by Kaiser Permanente would require patients admitted to a hospital and even to an Emergency Room would be required upon being stabilized to be transferred to a hospital within the Kaiser network in order to qualify for coverage.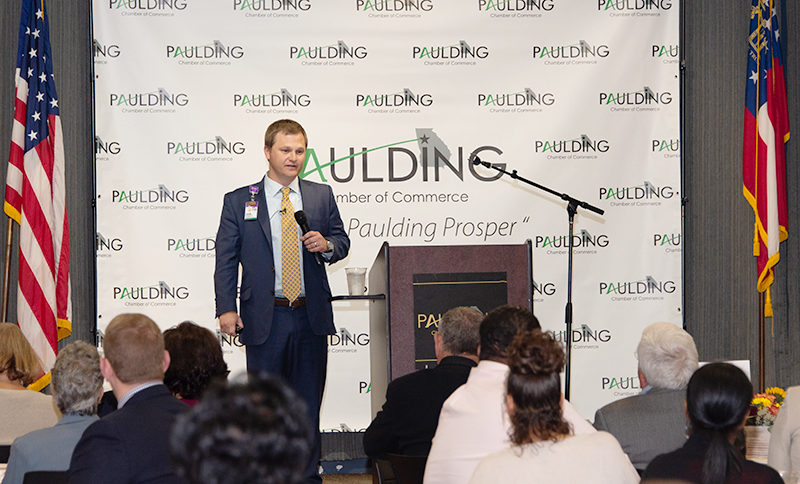 Another area is legislation is bills that influence the Certificate of Need (CON). Georgia is a CON state, Kueven explained and depends on the CON status to protect not-for-profit hospitals to be able to deliver their services to a range of patients who reside in the community.
With new legislation aimed at stemming the tide of Opioid addiction, the hospital has formed a committee to focus on that problem. "It's a huge issue...that bill being signed by the president is a first step to help curb that," he said. Opioids such as fentanyl and others are highly addictive and in the past have been issued to patients after surgeries or in other cases. According to the Centers for Disease Control and Prevention, more Americans die from opioid overdoses than from car accidents. Additionally, according to the Kaiser Family Foundation, one in five Americans has a family member who's been addicted to prescription painkillers. Opioid drugs include opium, codeine, fentanyl, heroin, hydrocodone, hydromorphone, methadone, morphine, oxycodone, oxymorphone, paregoric, sufentanil, and tramadol. Some of the new bills put more stringent guidelines on monitoring Schedule II prescriptions and called for more information to be provided to hospitals regarding pain management to avoid opioid addiction.
Georgia has been very proactive to address this problem with some other states and established the Prescription Drug Monitoring Program (PDMP). Also, some attention to preventative care can impact up to 18 percent of the hospital's overhead devoted to caring for obesity, diabetes, and cardiovascular disease, Kueven said.
Kueven brings more than 10 years of healthcare administration experience to WellStar. He worked in administrative roles at Boston Children's Hospital and North Mississippi Medical Center in Tupelo, Miss.
Kueven, previously headed-up the 208-bed Memorial Herman Katy Hospital near Houston, Texas, before moving to Paulding this year. Kueven succeeded Mark Haney, who headed the hospital from 2009 until October 2017, when he was named the not-for-profit health system's senior vice president of Real Estate, Facilities, and Development Services.
Paulding's state-of-the-art hospital facility opened in Hiram in April 2014, with 56 beds and 40 emergency exam rooms and an emergency department, cancer center, women's imaging, surgical and other healthcare services.