Ribbon Cutting for Marietta Dermatology and The Skin Cancer Center
A Paulding Chamber of Commerce Ribbon Cutting was recently held on February 26th at Marietta Dermatology and The Skin Cancer Centers for the expansion of their West Cobb office.
The new office is twice the size to accommodate community demand. The new address is 5041 Dallas Hwy, Suite 200-D. In addition, Marietta Facial Plastic Surgery Laser & Aesthetics Center (MFP), a subsidiary of MDSC, added a second location adjacent to the new dermatology office.
Marietta Dermatology, founded by Dr. Clem Doxy, has served the greater Atlanta area since 1970 and is recognized by the medical community and their patients for its expertise and culture of excellence. In 2010, to further Marietta Dermatology's mission of providing the very best dermatologic care, "The Skin Cancer Center" was founded under the direction of Mohs skin cancer surgeon Dr. Jared Friedman to provide vertically integrated skin cancer management. MDSC currently provides dermatologic care for almost 100,000 patients per year at its 3 locations in Marietta, Canton and West Cobb!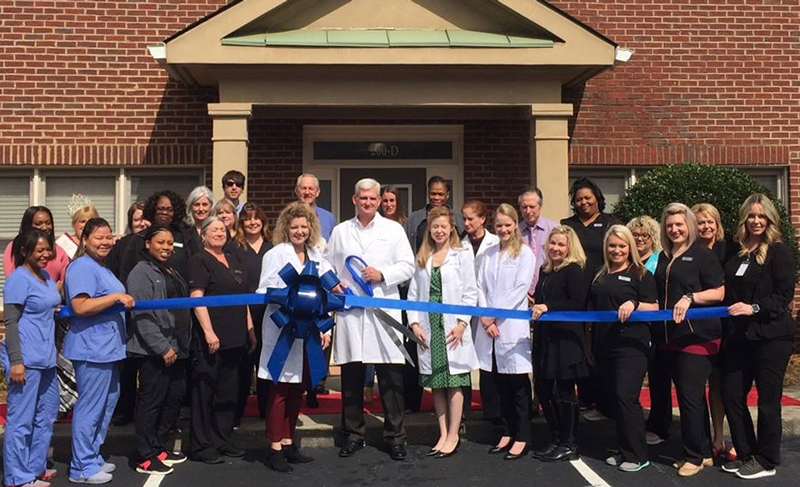 In 2011, Dr. Seth Yellin left Emory Healthcare as Chief of Facial Plastic Surgery to partner with MDSC and founded MFP at their flagship office in Marietta. With the West Cobb expansion, MFP will be opening its second location and will offer the Injecta-Lift procedure developed by Dr. Yellin to non-surgically rejuvenate the face, Botox treatments, BBL /laser skin treatments, CoolSculpting, facials and a broad array of skin care products including their signature product line, Marietta Derm Essentials.
"With the addition of our second location, our aesthetics team, led by my personally trained physician's assistant, Kelly Houmand PA-C, will bring our aesthetic artistry and top notch skin care expertise to the West Cobb community," said Yellin.
Senior Partner, Dr. Mark Knautz, was one of the founders of the West Cobb office and has worked there since it opened in 1996. "My partners, staff and I are very proud of the care we have provided the West Cobb community. The need for expansion due to the dramatic growth of our practice, I believe, speaks to our commitment to patient care," said Knautz.
Today MDSC and MFP offer an array of services including general dermatology, skin cancer surveillance, Mohs skin cancer resection and facial plastic surgery reconstruction, on-site pathology, cosmetic surgeries, aesthetic services and an in- house dispensary.
To learn more, please visit their websites at www.MariettaDerm.com and www.MariettaFacialPlastics.com.