Dr. Ron Newcomb Keynote Speaker at Chamber Awards Luncheon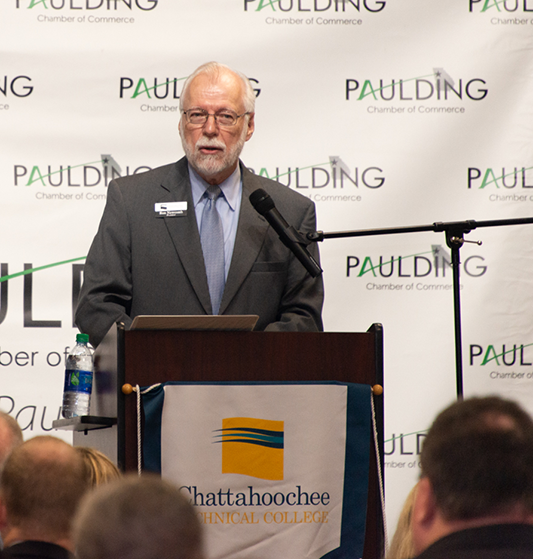 Dr. Ron Newcomb, president Chattahoochee Technical College (CTC) addressed Paulding business leaders last week at the Chamber of Commerce Luncheon, which was followed by the presentation of this year's Industry Appreciation Awards.
Dr. Newcomb and CTC's Executive Director Missy Cusack provided an update on the school's growth and impact in the last year on both the county and the region.
Paulding's 29-acre campus is home to over 800 students, of which a large percentage commute to the campus from another county and the online student population has seen the most growth, Ms. Cusack said.
The college's Registered Nursing program has been ranked third best in Georgia among all of the state's colleges, universities and technical colleges by the nursing advocacy group RegisteredNursing.org, according to information provided on the school's website. The CTC Welding program, up and running for about three years now, immediately filled in the first semester it was offered.
Adding to that a Paulding College and Career Academy will be opening this fall, Cusack said. Currently, there are 417 students taking advantage of dual enrollment, allowing them to get started on college while still at high school, Cusack said.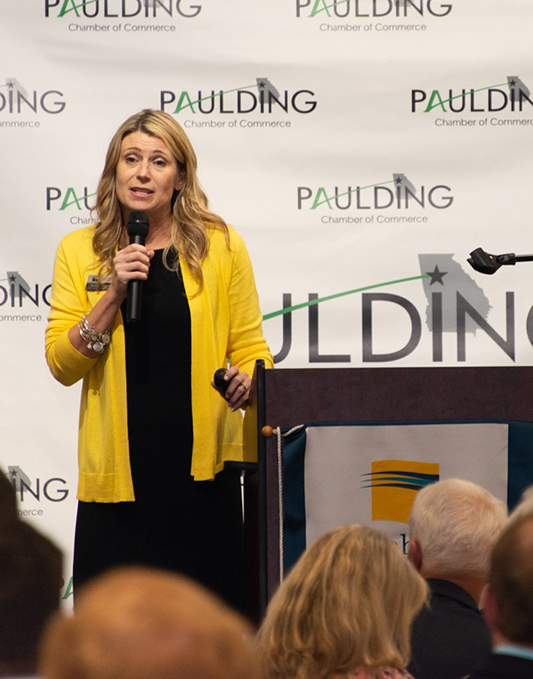 CTC's student population is divided between about a third in health-related fields, another third in core programs and another third in business and tech programs including media production and interior design.
Newcomb gave a nod last week to Paulding's legislators for their help and support to the college's workforce development efforts, which included making sure that state funds were set aside to establish an aviation academy at Paulding's airport next year.
Students come to the Paulding campus from several neighboring counties for the nursing program and Newcomb told Paulding business leaders last week that he expects the aviation academy will serve to draw students from all over the state.
And he noted it will be located just eight miles up the road at Paulding's NW Atlanta Airport. Georgia will join Texas, California, and Florida in supplying the growing demand for aviation mechanics as Baby Boomers begin to retire and leave the workforce, Newcomb said.
Industry Appreciation Awards
Honorees for 2019 included the 1st Service Industry of the Year Award went to Precision Heating & Air. Aerospace Fabrications of Georgia was awarded Industry of the Year (Adam and Tracy Grizzle)
CTC is the largest technical college in the state with eight campus locations serving the counties of Bartow, Cherokee, Cobb, Gilmer, Paulding, and Pickens. CTC awards more than 70 certificates, diplomas and associate degrees in 45 programs of study through traditional classroom courses as well as online training. Economic impact on the six-county region has been estimated at $100 million.
The college also provides the community with other learning opportunities, including customized workforce training, adult literacy and continuing education programs.