Ribbon Cutting for JK Land Jeep Sales
Dallas, GA –– The Paulding Chamber of Commerce held a ribbon-cutting for JK Land Jeep Sales on, Wednesday, August 7, 2019. We are so excited to have them in our community and know that they are doing wonderful things!
JK Land Jeep Sales & 4X4 Outfitters is a modern, innovative, high-end Jeep dealership and 4X4 customization experience located off Highway 92 at 64 Hunter Road, where Douglasville and Paulding County co-exist. JK Land specializes in new and used Jeep sales, Jeep outfitting and Jeep conversions, in addition to 4X4 truck and SUV outfitting and customizations. JK Land is also an exclusive, authorized Black Mountain (BLKMTN) Jeep off-roading parts & accessory dealer. BLKMTN has been featured in media outlets like Barret Jackson, Gas Monkey Garage Fast N' Loud and Discovery channel's Garage Rehab with Richard Rawlings and Dennis Collins, BLKMTN's proprietor.
When local Douglasville Jeep owners Stephen and Michelle Vance determined that Jeepers and 4x4 enthusiasts should not have to compromise their daily drivers for off-roading capabilities, the JK Land experience was born. The couple leveraged their backgrounds in the automotive industry, retail, technology, and in customer service to create an experience like no other – an exclusive, outdoor-themed, interactive, 4X4 outfitters paradise.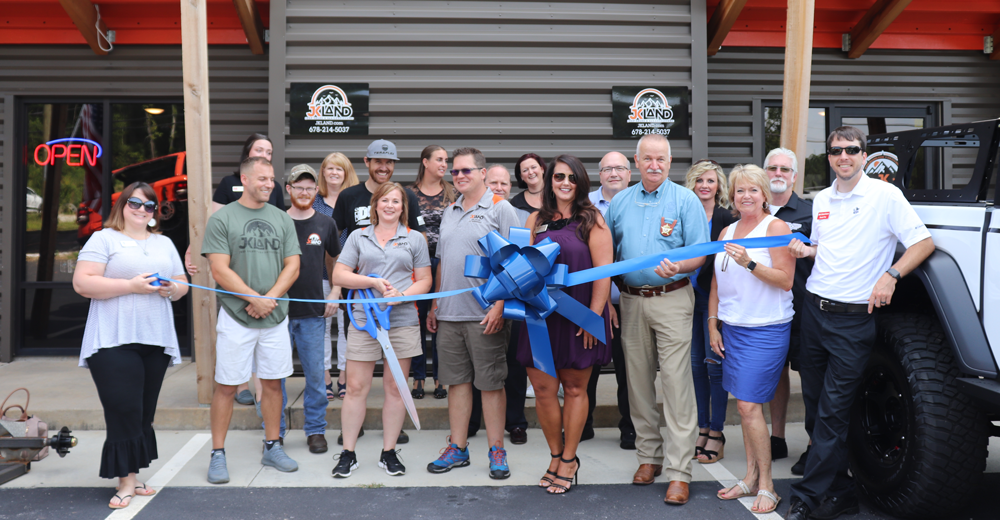 JK Land has remodeled a 12,000 sq. ft warehouse into a customization shop and retail store to include an interactive, high-tech design studio. Built on transparency, JK Land offers direct, picturesque views into the shop where the technicians work, as well as a unique mobile application which allows customers to watch live video of their custom build, fully in progress. Along the journey, giving back to the community has been of utmost importance. JK Land has had the honor to participate and contribute to numerous charitable events in our community benefitting disease and cancer research, youth programs, animal rescue, animal adoption, and veteran programs. JK Land thrives on bringing positive change and making a difference in the communities where we work, live and play.
JK Land Jeep Sales & 4X4 Outfitters is open Monday through Friday 9:00 am to 5:00pm and Saturday 9:00am to 4:00pm. We also offer appointments by special request.
On Saturday, August 10, 2019, JK Land hosted a family-friendly Grand Opening benefitting Bremen Georgia's American Warrior Garage (AWG) for veterans. AWG was featured on Richard Rawlings' Garage Rehab with Scotty Jones, the proprietor who was in attendance. The JK Land team was also there along with the man himself, Dennis Collins, from the Gas Monkey Garage hit TV show Fast-N-Loud, plus Big Chris and Kelsey Collins from Black Mountain. For more information, visit our website JKLAND.COM or Facebook @jklandjeeps.