Ribbon Cutting for Easy Walk Foot Clinic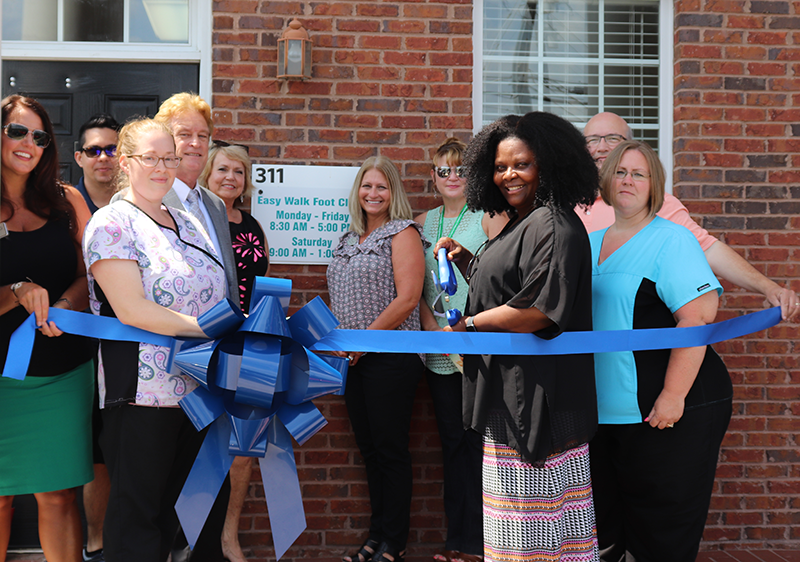 Dallas, GA – August 12, 2019 – The Paulding Chamber of Commerce held a ribbon-cutting for Easy Walk Foot Clinic on August 12, 2019. The clinic is located at 5604 Wendy Bagwell Pkwy., #311 in Hiram.
Although she has spent her early years in Nigeria, Dr. Azuka Nwaedozie ("Dr. N") has dedicated most of her life to giving back to others and serving her community in the medical field. She has been in the medical field for 30 years. Dr. N graduated from The New York College of Podiatric Medicine in New York City, which is home to some of the most prestigious health care institutions in the world.
Dr. N moved to Georgia and opened Easy Walk Foot Clinic in 2011. In 2012, she also purchased a well-established practice in Rome, Georgia. Dr. N serves Georgia as both a stationary and mobile clinic. Her team is dedicated to providing foot and ankle care to EVERY PATIENT. Dr. N and her staff were called to serve you!
In August 2019, Dr. N opened the Hiram location to better serve more of Georgia. The clinic offers medical and surgical treatments for anything below the knee, for example; bunions, hammertoes, arch disorders, heel spurs, fungal toenails, ingrown toenails, ankle injuries, warts, arthritis, and sports injuries. Also offered are diabetic shoes and insoles, Laser Pain Therapy treatments, KeryFlex Nail Restoration Therapy, Botox Treatment for sweaty feet, pillows for your feet, and an IN-HOUSE SPA. Dr. N is best known by her diabetic patients, who love her help with nail care which will be offered by her, as well as the in-house spa! If you are a local experienced Nail Technician, Medical Front or Back office and want to join this dynamic team, please contact Dr. N at 770.485.3921.