Chattahoochee Technical College Marketing Team Awarded Three Medallion Awards
Chattahoochee Technical College's Marketing Team was recently awarded three Medallion Awards from the National Council for Marketing and Public Relations. The Medallion Awards recognize outstanding achievement in communications at community and technical colleges in District 2. The only regional competition of its kind, the Medallion Awards honors excellence exclusively among marketing and Public Relations professionals at two-year colleges.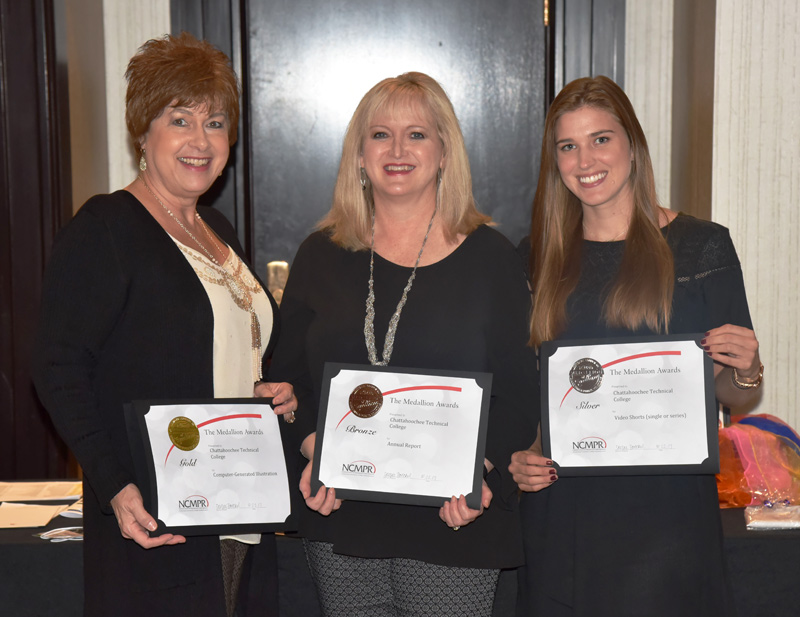 "We are so pleased to be recognized for achievement in these areas," Dee Dee Doeckel, executive director for marketing, digital media, and recruitment, said. "As a unit, our marketing team strives to do its best every day.
"We appreciate being selected as winners by, and among, our peers." Chattahoochee Technical College, Georgia's largest technical college, was awarded a Gold Medallion award for Computer Generated Illustration, a Silver Medallion award for Video Shorts and a Bronze Medallion for its Annual Report.
The judges' comments stated the Gold Medallion award-winning Computer Generated Illustration had "good use of colors" and "the design catches your eye and draws the viewer in to check out the booklet." Last year, Chattahoochee Tech embarked on a market research study to help gain better insight into who we are as an organization. After months of research and planning, Chattahoochee Technical College established a new message focused on "the Essentials." Both the Computer Generated Illustration and the Silver Medallion award-winning Video Shorts were based on that new message, "the Essentials." The nominated publications are judged on the criteria of project results, aesthetics, design quality and techniques by an independent panel of judges.
NCMPR District 2 is comprised of community and technical colleges in Alabama, Florida, Georgia, Kentucky, Louisiana, Mississippi, North Carolina, South Carolina, Tennessee, Virginia, West Virginia, Bermuda, British Virgin Islands and The Bahamas. The NCMPR Medallion awards are awarded annually at the NCMPR District 2 Conference, which was held this year in Louisville, Kentucky. The district received 114 awards in 39 categories this year.
Leading the college's branding efforts, Chattahoochee Technical College's Marketing Department focuses on strategic marketing initiatives, print and digital design, social media, web services, public relations, photography and editorial services.
About Chattahoochee Technical College:
A unit of the Technical College System of Georgia, Chattahoochee Technical College is the largest technical college in the state with more than 14,000 students enrolled in the past academic year. The college has eight campus locations serving the counties of Bartow, Cherokee, Cobb, Gilmer, Paulding, and Pickens. CTC provides a high quality, easily accessible college education at a fraction of the cost of other area colleges and universities. Chattahoochee Technical College awards more than 70 certificates, diplomas and associate degrees in 45 programs of study through traditional classroom courses as well as online training. The college also provides the community with learning opportunities, including customized workforce training, adult literacy and continuing education programs. For more information, visit www.ChattahoocheeTech.edu.