Volunteer of the Year Award Presented to Chattahoochee Tech Volunteer Susan Stephens, Champion of Technical Education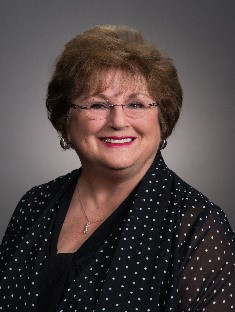 A constant champion of technical education in Georgia, Susan Stephens of Cartersville was presented with the Technical College Foundation Association 2017 Volunteer of the Year Award on Tuesday, Nov. 7 at the leadership conference of the Technical College System of Georgia held in Savannah.
"For over 30 years, Mrs. Stephens has been a tireless advocate for technical education and the difference that it can make in the lives of students and their families," said Jennifer Nelson who serves as Executive Director of the Chattahoochee Tech Foundation and as the College's Vice President for Student Affairs. "She has spent countless hours volunteering at various special events and functions held by Chattahoochee Tech and the Foundation, and always arrives with an enormous smile on her face."
While serving as chair of the Development Committee for the recent Chattahoochee Tech Foundation Reverse Raffle fundraiser, Stephens personally generated a large percentage of the funds raised by this event through her commitment to selling tickets, securing sponsors and obtaining door prizes. The event raised $36,887 and these funds will go toward scholarships and to emergency tuition and emergency assistance grants for deserving students. According to Stephens, a volunteer is a person who gives to the greater good – someone who spreads hope and presents opportunities to others.
"I have personally witnessed what training and education can do for a person, a family, and a community," said Stephens. "I think my vocation is helping people to help themselves. It makes me happy to see people succeed."
Stephens currently serves on the Executive, Development and Finance committees of the Chattahoochee Tech Foundation Board of Trustees. She has served the Technical College System of Georgia in some capacity for most of her life.
After graduating from Cartersville High School in 1966, Mrs. Stephens worked at Coosa Valley Tech for 25 years before taking a position at the former North Metro Technical College. Upon her retirement, she had completed 33 years of service and then continued to serve as a volunteer. When North Metro Tech merged with Chattahoochee Technical College in July 2009, she began volunteering with the newly merged Chattahoochee Tech Foundation Board of Trustees and has served there ever since.
For more information, visit ChattahoocheeTech.edu
About Chattahoochee Technical College:
A unit of the Technical College System of Georgia, Chattahoochee Technical College is the largest technical college in the state with more than 15,000 students enrolled in the past academic year. The college has eight campus locations serving the counties of Bartow, Cherokee, Cobb, Gilmer, Paulding, and Pickens. CTC provides a high quality, easily accessible college education at a fraction of the cost of other area colleges and universities. Chattahoochee Technical College awards more than 70 certificates, diplomas and associate degrees in 45 programs of study through traditional classroom courses as well as online training. The college also provides the community with learning opportunities, including customized workforce training, adult literacy and continuing education programs. For more information, visit www.ChattahoocheeTech.edu.