State Senate Study Committee on Cyber Security Education Convenes at Chattahoochee Tech North Metro Campus in Acworth
The State Senate Study Committee on Cyber Security Education convened at Chattahoochee Technical College's North Metro Campus in Acworth on Thursday, Nov. 9 to continue its assessment of cybersecurity education available for Georgia students.
Chaired by Sen. Bruce Thompson, this committee was created in March 2017 with the adoption of Senate Resolution 454 to focus on fostering cybersecurity education that will prepare students for career opportunities in the cybertechnology workforce.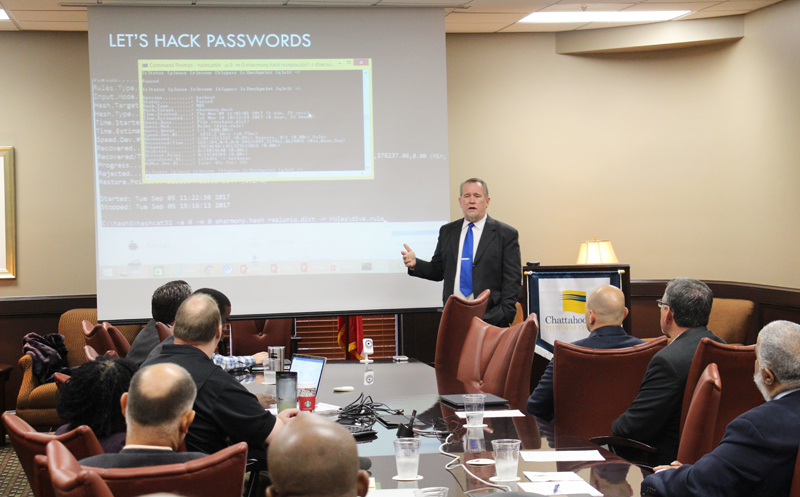 "This committee will stand ready to recommend any action or legislation deemed necessary or appropriate to meet the needs of cybersecurity education in this fast-growing industry," said Thompson.
Included among those from Chattahoochee Tech addressing the Senate committee at this meeting were Vice President of Academic Affairs Jason Tanner and Cybersecurity Instructor Charles Chapman.
"Anything involving cyberspace and the internet is cybertechnology," said Chapman. "As this field continues to grow, it is vital to graduate computer information system specialists who are skilled in securing and defending computer systems with cybersecurity technologies."
The Computer Information Systems Technology Program at Chattahoochee Tech offers a degree and diploma in Cybersecurity. This program features a Cisco networking lab with cutting-edge technologies in and real-world equipment for network security, voice over Internet Protocol (VoIP) and wireless connectivity. These courses are also available to Georgia high school students who participate in Georgia's Dual Enrollment Program.
For more information, visit ChattahoocheeTech.edu.
About Chattahoochee Technical College:
A unit of the Technical College System of Georgia, Chattahoochee Technical College is the largest technical college in the state with more than 15,000 students enrolled in the past academic year. The college has eight campus locations serving the counties of Bartow, Cherokee, Cobb, Gilmer, Paulding, and Pickens. CTC provides a high quality, easily accessible college education at a fraction of the cost of other area colleges and universities. Chattahoochee Technical College awards more than 70 certificates, diplomas and associate degrees in 45 programs of study through traditional classroom courses as well as online training. The college also provides the community with learning opportunities, including customized workforce training, adult literacy and continuing education programs. For more information, visit www.ChattahoocheeTech.edu.