Open Roads Complete RV Donates to Chatt Tech Student Academy
In an effort to help Chattahoochee Technical College students reach their academic and professional goals, Open Roads Complete RV Owner Drew Hutton has provided a $2,500 donation to the college's 2018 Student Leadership Academy.
"I was excited for the opportunity for us, Open Roads Complete RV, to sponsor the Chat Tech Student Leadership Academy," Hutton said. "For us to be able to help shape the minds and ideas of Future Leaders is an honor. We are very blessed to have programs like this in our community."
He said making the donation is his way of helping pass on some of the success he has experienced in his life made possible through hard work and the positive influence of others. "Open Road's Complete RV is a business that I started in June of 2014," Hutton said. "Our success is from a great work ethic, a great team around us and people that made an investment in my future. For this, I'm very grateful and I hope this small contribution will make a difference in somebody else's life."
Stephanie Hubbell, who serves as the college's director for alumni and annual giving, said this contribution will help make a difference in the lives of students. "We are very thankful for Drew reaching out to CTC and his willingness to not only provide a donation but to serve as an ongoing partner," Hubbell said. "Through the aid of our community partners willing to sponsor student activities, such as the Student Leadership Academy, our students are able to take advantage of opportunities to help them grow as leaders on campus and, in turn, leaders in the workforce."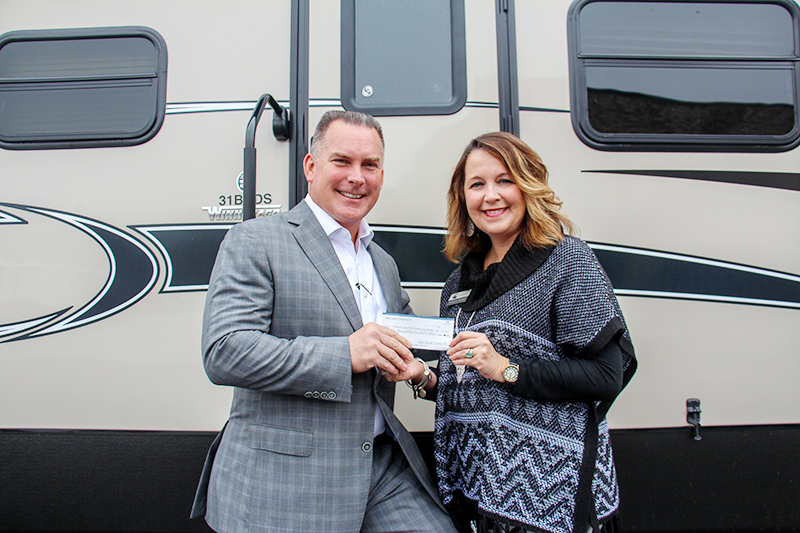 The Student Leadership Academy consists of five sessions during each semester. Each session is designed to facilitate a better understanding of leadership qualities and principles. Sessions include establishing a personality and leadership profile, teambuilding and conflict resolution, communication skills, and community leadership and networking.
Student participants have the opportunity to be mentored by top-level administrators from Chattahoochee Technical College, the local community, and corporate business partners.
Students in the academy commit to the semester-long program that culminates with one student being selected to receive an award of $500. The award will be given at the Student Leadership graduation ceremony held at the end of the semester. For more information, visit ChattahoocheeTech.edu.
About Chattahoochee Technical College:
A unit of the Technical College System of Georgia, Chattahoochee Technical College is the largest technical college in the state with more than 14,000 students enrolled in the past academic year. The college has eight campus locations serving the counties of Bartow, Cherokee, Cobb, Gilmer, Paulding, and Pickens. CTC provides a high quality, easily accessible college education at a fraction of the cost of other area colleges and universities. Chattahoochee Technical College awards more than 70 certificates, diplomas and associate degrees in 45 programs of study through traditional classroom courses as well as online training. The college also provides the community with learning opportunities, including customized workforce training, adult literacy and continuing education programs. For more information, visit www.ChattahoocheeTech.edu.