Chattahoochee Tech Culinary Instructor Named 2017 Chef Educator of the Year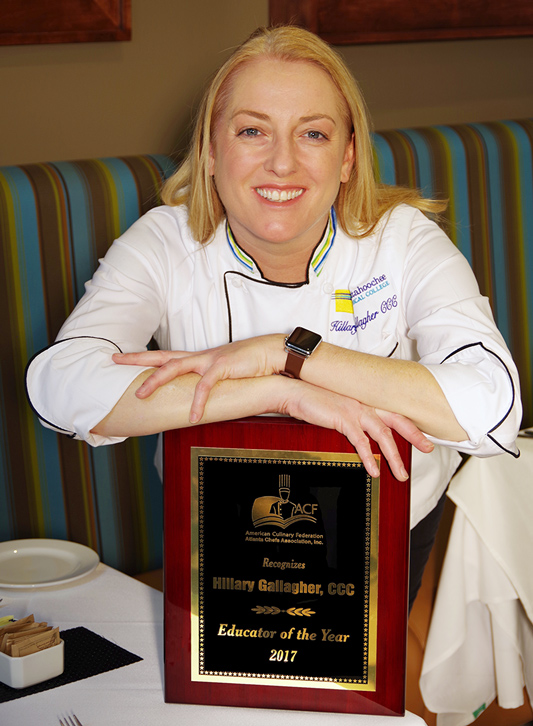 Chattahoochee Technical College Culinary Program instructor Hillary Gallagher received the 2017 Chef Educator of the Year award presented by the American Culinary Federation-Atlanta Chefs Association at its monthly meeting on Dec. 4th.
"The American Culinary Federation-Atlanta Chefs Association had the honor of bestowing the 2017 Chef Educator of the Year award to Chef Hillary Gallagher for the outstanding program she runs at Chattahoochee Technical College, her dedication to her students' culinary education and engaging her students in community service," said ACF-Atlanta Chefs Association Executive Director Cheryl Glass. "We honor Chef Gallagher for her hard work and dedication instructing the next generation of culinarians to carry on the great food traditions set by the masters of the industry."
Since 2005, Gallagher has worked at Chattahoochee Technical College where she serves as the college's Culinary Arts program lead instructor and program director. She is a graduate of the New England Culinary Institute where she earned a bachelor's degree in Food and Beverage Management as well as an associate degree in Culinary Arts. After working in restaurants in Miami, New York City and Denver, she relocated to Georgia in 2003 to help establish the Culinary Arts program at Ogeechee Technical College in Statesboro. "I sincerely hope this honor helps to shine a light on the Culinary Arts program at Chattahoochee Tech," said Gallagher. "I am proud to be part of an esteemed faculty that runs a top-notch program housed in a great facility."
The Chattahoochee Tech Culinary Arts program is based at the college's Mountain View Campus in Cobb County and is accredited by the American Culinary Federation. Chattahoochee Tech students in the Culinary Arts degree program automatically qualify for the first level of American Culinary Federation certification.
The American Culinary Federation, founded in 1929 in New York City, is the largest professional chef organization in North America, made up of more than 17,500 members across the United States. The ACF-Atlanta Chefs Association is a non-profit professional organization for the culinary profession that serves the Atlanta Metro area and most of the state of Georgia. Inclusive in the ACF-Atlanta Chefs Association are the metropolitan areas of Atlanta, Rome, Albany, Columbus, Macon, and Valdosta.
For more information, visit www.ChattahoocheeTech.edu.