Military Friendly Schools Designation Bestowed to Chattahoochee Technical College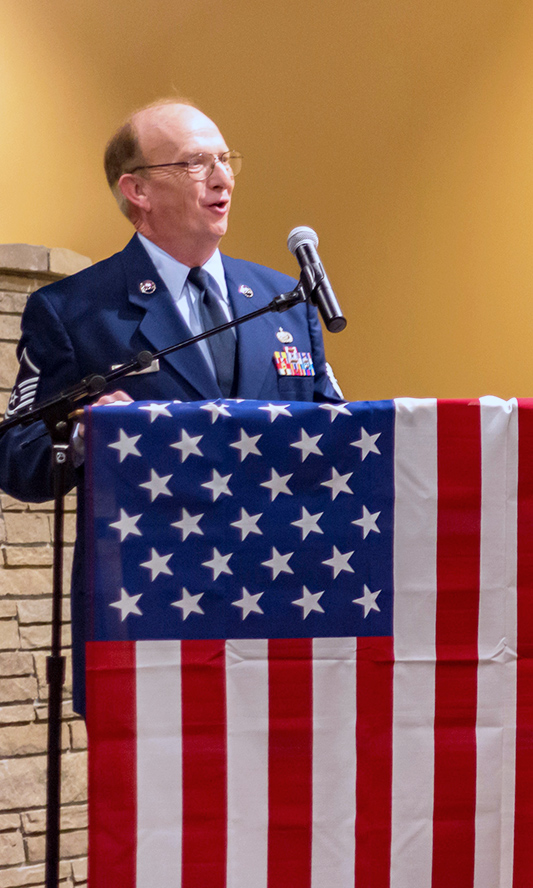 Chattahoochee Technical College was designated on Dec. 15 as one of the nation's top Military Friendly® Schools by Victory Media, the publisher of G.I. Jobs magazine.
The Military Friendly® Schools designation is based on extensive research using public data sources for more than 8,800 schools nationwide, according to Victory Media, as well as input from student veterans and responses to a comprehensive survey. Leading the initiative to support student veterans and their family members at Chattahoochee Tech is the college's Veteran Services Coordinator Dr. Barry Munday, a resident of Carrollton and a 30-year U.S. Air Force veteran who holds a doctorate in Biblical Counseling.
"Our challenge is great and continually growing," said Munday. "To serve a small portion of the 800,000 veterans in Georgia is a daunting task, but one that also serves as a motivator and encouragement. My greatest objective is to provide the quality and level of service to our veterans that they so unselfishly provided to us in defense of our country and freedom." "For the 2017 fall semester, we had 843 enrolled veterans and veteran family members," said Munday. "Over 50 percent were those previously and currently serving in four of the five branches of service – Army, Navy, Marines and Air Force. The leading programs of study for military-affiliated students are Health Sciences, Computer Information Systems, and Business Management."
Munday credits the collective and unified support and encouragement of college leadership, faculty and staff, as being the most notable aspect of Chattahoochee Tech's success in serving its student veteran and military family population. More than 220 Chattahoochee Tech employees have volunteered to complete training for the college's Green Zone initiative to support student veterans and their families. Established in 2015, the Chattahoochee Tech Green Zone initiative trains faculty and staff to have an increased awareness of veteran needs and to connect veterans and their families with the support and assistance they need in order to begin or continue their journeys in college.
"Many times, a transitioning veteran doesn't realize what he or she does not know about becoming a civilian," said Munday. "This can be very overwhelming and result in a strong feeling of being alone. To provide a helping hand to them is very rewarding and satisfying. The most enjoyable part of this job is helping those who are serving and who have served, and assisting them transition to college and civilian life, or to add college to their already full schedule of obligations and commitments." The Military Friendly® Schools designation for Chattahoochee Tech will be provided by Victory Media to U.S. veterans, military service members, and their families to help them locate the best available educational opportunities. This information will be provided to military transition classes and U.S. military communities across the globe, reaching hundreds of thousands of transitioning service members, veterans, military spouses and military transition program managers each month. Founded in 2001, Victory Media is a service-disabled, veteran-owned small business that connects the military community to civilian employment, educational and entrepreneurial opportunities.
For more information, visit www.ChattahoocheeTech.edu.
About Chattahoochee Technical College:
A unit of the Technical College System of Georgia, Chattahoochee Technical College is the largest technical college in the state with more than 14,000 students enrolled in the past academic year. The college has eight campus locations serving the counties of Bartow, Cherokee, Cobb, Gilmer, Paulding, and Pickens. CTC provides a high quality, easily accessible college education at a fraction of the cost of other area colleges and universities. Chattahoochee Technical College awards more than 70 certificates, diplomas and associate degrees in 45 programs of study through traditional classroom courses as well as online training. The college also provides the community with learning opportunities, including customized workforce training, adult literacy and continuing education programs. For more information, visit www.ChattahoocheeTech.edu.