Chattahoochee Technical College Nursing Student Serves as Overseas Medical Volunteer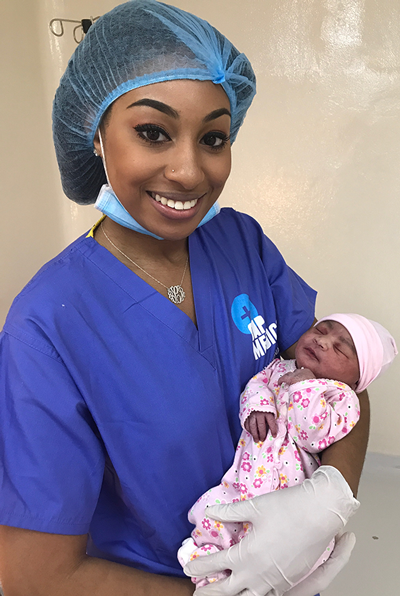 Chattahoochee Technical College nursing student and scholarship recipient Breanna Cooper volunteered during the 2017 winter break as a medical volunteer at a public hospital for women and children in the Dominican Republic. Her international medical volunteer internship at Santo Domingo's Hospital de Los Mina was organized by the London-based Gap Medics organization.
"This experience really broadened my understanding of nursing," said Cooper, who helped provide care for newborn babies. "I'm hoping to collect baby blankets for them and go back in May."
A 2015 graduate of North Paulding High School, Cooper received the Rotary Club of Paulding scholarship presented by the Chattahoochee Tech Foundation in April 2017. She is on track to complete the Licensed Practical Nurse diploma at Chattahoochee Tech's Marietta Campus in August. Upon completion of this program, she plans to apply for the Chattahoochee Tech LPN to RN bridge program option offered at the Chattahoochee Tech Paulding Campus.
"Chattahoochee Tech really helped me jump-start my career in healthcare," said Cooper. "I like how everyone here is willing to help you. They are very personable."
The Health Sciences Division at Chattahoochee Technical College offers a variety of degree, diploma and certificate programs that prepare graduates for employment in the dynamic environment of the healthcare industry. Chattahoochee Tech offers programs that support every aspect of health care, from nursing to medical records management.
For more information, visit www.ChattahoocheeTech.edu.
About Chattahoochee Technical College:
A unit of the Technical College System of Georgia, Chattahoochee Technical College is the largest technical college in the state with more than 14,000 students enrolled in the past academic year. The college has eight campus locations serving the counties of Bartow, Cherokee, Cobb, Gilmer, Paulding, and Pickens. CTC provides a high quality, easily accessible college education at a fraction of the cost of other area colleges and universities. Chattahoochee Technical College awards more than 70 certificates, diplomas and associate degrees in 45 programs of study through traditional classroom courses as well as online training. The college also provides the community with learning opportunities, including customized workforce training, adult literacy and continuing education programs. For more information, visit www.ChattahoocheeTech.edu.