William Evans becomes First Paulding County African American Male Dual Enrollment Graduate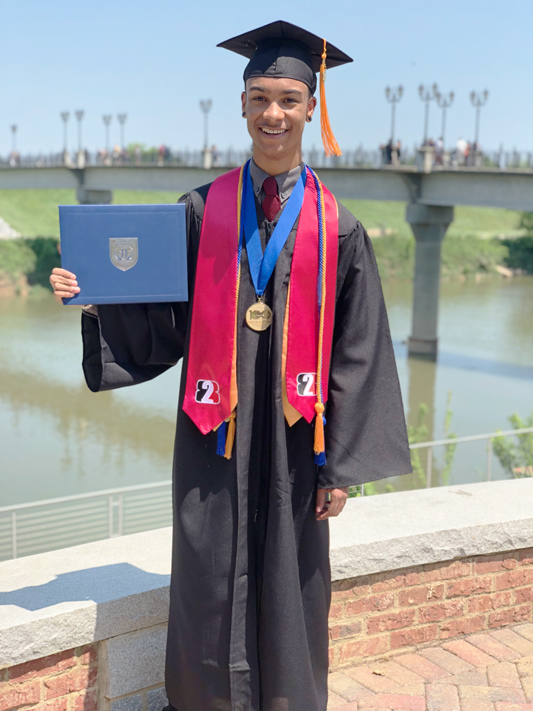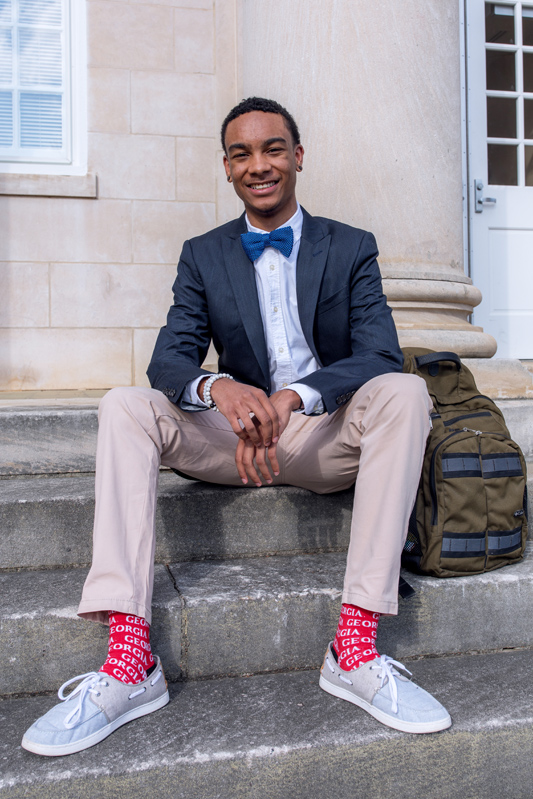 Georgia Highlands College Paulding Site provides a family-orientated culture that breaths success. The campus provides all the resources and the structure needed for students to "Learn how to become a successful college student". This is exactly what happened to an extraordinary young man, William Evans. William has joined hundreds of other 2018 college graduates at Georgia Highlands; the only difference is William is a high school student who graduated college before he walks for his high school graduation. William is also the first African-American male to attain this major accomplishment in Paulding County, and the first in the history of Georgia Highlands College.
He is part of the Dual Enrollment program at GHC. Dual Enrollment is a program that allows high school students (9th – 12th grade) to earn tuition-free college credit while working on their high school diploma.
"I decided to participate in the dual enrollment program at GHC Paulding after attending a GHC Paulding Preview Day," William said. "Deciding to become a Dual Enrollment student at GHC Paulding is one of my proudest decisions in high school." William will also receive his high school diploma from Paulding County High School. William is the first dual enrollment graduate of Paulding County High School.
"When I first started taking college courses as a Sophomore in fall 2016, I really did not know what to expect. I took courses with other Dual Enrollment students, traditional and non- traditional students. I learned how to better communicate in group environments. I also learned how to adjust my work and study habits to better perform in my courses," he said.
William admitted at first the whole process was a bit "overwhelming," but he said the atmosphere at GHC Paulding helped propel him toward his goal of graduating with a two-year degree at nearly the same time he would bring home his high school diploma. He was inspired to try and finish his associate the same time he finished his high school because when he was in the process of applying to undergraduate programs for fall 2018 he felt pretty overwhelming - especially when looking at an institution's admitted freshman profile. "I am not the best-standardized test taker and was worried that my scores would hold me back from getting admitted. After speaking with my success coach, in spring 2017, we decided that obtaining my associate's degree before high school graduation would put me in a totally different category than other applicants and it was worth a shot."
"The faculty and staff at GHC Paulding are dedicated, enthusiastic and proud of GHC and student success," he said.
"The students at GHC Paulding are intelligent, diverse and welcoming. I never felt that I was looked at less than others because I was a Dual Enrollment student." William stated another key to his success was joining several student organizations, including Brother 2 Brother, Phi Theta Kappa, the Six Mile Post and Emerging Leaders. William especially credited much of his success to B2B, which is part of the GHC initiative GHAME (Georgia Highlands African American and Minority Male Excellence), which is a part of the USG's statewide program AAMI (African American Male Initiative). The Paulding Site Director, Ms. Joy Hambrick and my Success Coach, Coach Lemelle had the pleasure of mentoring me through the whole process.
"I would definitely recommend Dual Enrollment to other high school students," he said. "Becoming a Dual Enrollment student will save you thousands of dollars in the long run after entering an undergraduate program and it's a great way to get an early start on your college career. I went from no options to getting accepted into Auburn University, Georgia State University, Georgia Tech, Kennesaw State University, Savannah College of Art and Design, University of Georgia, Virginia Commonwealth University, and Virginia Tech. My only regret is that during my journey, I really did not have time to sit down and apply for different scholarships. Yes, I received the HOPE, but that only covers so much. "
Next, William has chosen to attend the University of Georgia, where he will double major in art and women's studies. He plans to go on to obtain his doctorate and become a humanities professor.