Channel 2 Visits Local Classroom to Highlight 1:1 Technology Initiative
The countdown has begun! There are only a few days left in August for local teacher, Jodie Henson at Abney Elementary School, to reach her goal of raising $15,000 to implement a groundbreaking way of teaching in the Paulding County School District! But she and her students still need your help!
Henson is embarking on a new journey in the Paulding County School District for her students, hoping to implement 1:1 technology in her classroom. 1:1 technology means that every student in her classroom will have their own piece of technology all day every day, used to enhance their daily classroom experiences. The iPads purchased are not intended to replace the teacher or books and paper/pencil in the classroom. The purpose of this initiative is to provide students with another tool in the classroom to express their creative talents and to strengthen their knowledge of useful technology for productivity. By having their own technology in hand, students can answer the "why" and "what if" questions by conducting research to discover their own answers and learn about what interests them with Henson's support and guidance. Students will be able to practice typing skills, necessary for many jobs, and a must for standardized testing. Henson hopes that by implementing this initiative and making it a success, that other teachers in Paulding will be able to come visit her classroom and they can work collaboratively to impact even more students in the District. Henson is embracing both the Paulding County School District's mission and vision statement of, "Engage. Inspire. Prepare." and "to prepare ALL students for success today and tomorrow," through this groundbreaking initiative.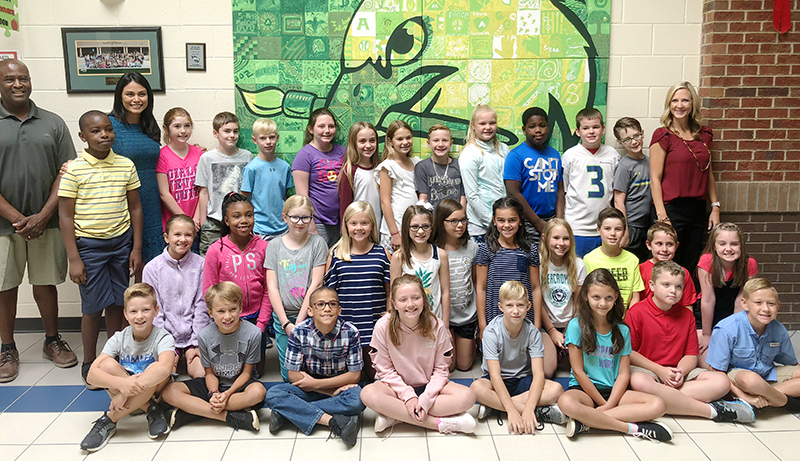 Many families and businesses have donated so far, but Henson still needs to raise $10,000 to reach the goal she set to have the money collected in order to buy the iPads and get them in the hands of her students as soon as possible. Those businesses and families who have already donated will be acknowledged for their contributions on in the "Nest Egg" mural in the main hall at Abney. Golden eggs will identify those who have donated $500, as they have sponsored one technology kit for one student. Donations in any amount are welcome and will also get "nest eggs" in the Eagle's nest mural. Eggs will be various colors depending on the amount donated. Be added to this list of amazing businesses and families by donating and becoming part of the Paulding County School District and Abney Elementary history.
Current "Golden Egg" Donors:
Atlanta Health Systems
BLD
Ciggy's Elite Engineering
West Metro Driving School
David & Lisa Butler
Other Amazing Abney Donors:
Akeisha Huguenin check spelling
Amber Doneilli
C & C Pharmacy
CRA
Greg & Sharon Wood
Jeffrey Whitfeild
Kimberly Assisted Living Home
Legendary Plumbing
Lori Saladino- Three Eaves Real Estate
Rachelle Travel Agency
Tiffany Fields- Atlanta Communities Real Estate
Wolf Family
Would you like your name or business added to this list? No problem! There are two ways to donate.
To donate by check:
Write a check to Abney Elementary (be sure to include 1:1 in the memo line) and mail to- 1186 Colbert Rd~ Dallas, GA~30132
Donate online:
https://paulding.RevTrak.net