Nursing Students Convene for Leadership Conference at Chattahoochee Tech Paulding Campus
The Chattahoochee Tech Associate of Science in Nursing (ASN) program recently hosted its annual leadership conference at the college's Paulding Campus. Over the course of this two-day event, junior and senior nursing students had the opportunity to attend multiple sessions presented by members of the community. Students learned how to incorporate their student learning outcomes into professional practice and emerge as leaders in their field. Junior nursing students also participated in a special candle-lighting ceremony.
The Chattahoochee Tech ASN program is a highly competitive, rigorous program involving classroom, laboratory, and clinical activities. Program graduates are eligible to apply and sit for the National Council Licensure Examination for Registered Nurses (NCLEX-RN). After successful completion of the NCLEX-RN, graduates are granted state licensure to practice nursing as Registered Nurses.
For more information, visit www.ChattahoocheeTech.edu.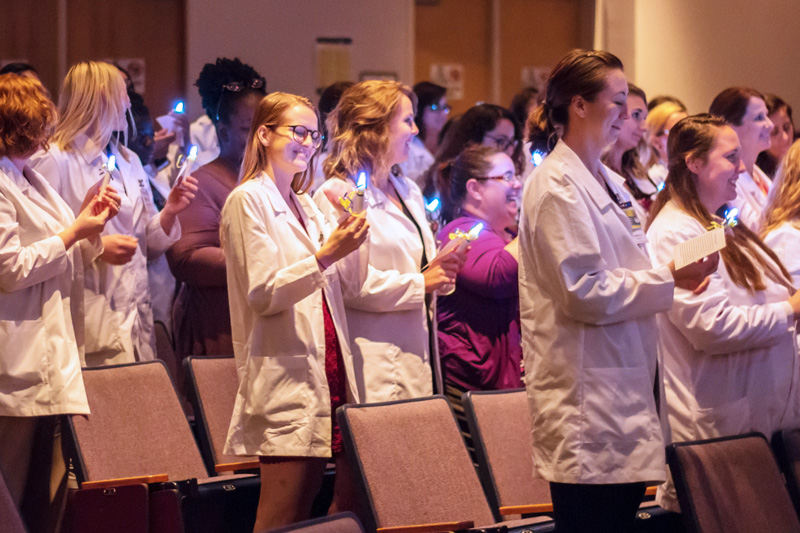 About Chattahoochee Technical College:
A unit of the Technical College System of Georgia, Chattahoochee Technical College is the largest technical college in the state with more than 14,000 students enrolled in the past academic year. The college has eight campus locations serving the counties of Bartow, Cherokee, Cobb, Gilmer, Paulding, and Pickens. CTC provides a high quality, easily accessible college education at a fraction of the cost of other area colleges and universities. Chattahoochee Technical College awards more than 70 certificates, diplomas and associate degrees in 45 programs of study through traditional classroom courses as well as online training. The college also provides the community with learning opportunities, including customized workforce training, adult literacy and continuing education programs. More information is available at www.ChattahoocheeTech.edu.