2018 Reverse Raffle Fundraiser Raises Record Amount with Raffle Winner Yanmar Giving Grand Prize to Chattahoochee Tech Foundation
The Chattahoochee Tech Foundation raised a record amount of over $46,000 at the 2018 Reverse Raffle Fundraiser held at Chattahoochee Technical College on Thursday night, Oct. 4, with Yanmar, the raffle winner and Platinum event sponsor, giving their $5,000 grand prize back to the Chattahoochee Tech Foundation.
"This event was a tremendous success thanks to the incredibly generous support of our sponsors and donors," said Stephanie Hubbell, Chattahoochee Tech director for alumni and annual giving. "All proceeds will go directly to helping Chattahoochee Tech students. This popular event has proven to be very significant in supporting our mission to help students."
Unlike a typical raffle, the purchaser of the last ticket drawn in a Reverse Raffle wins the grand prize. At the 2018 Chattahoochee Tech Foundation Reverse Raffle, Emcee Louis Tonsmeire announced the names of the final five ticket holders and asked if they would like to split the $5,000 grand prize five ways or continue with the raffle. As one of the five finalists, Yanmar was all in, with Yanmar America President Tim Fernandez requesting that the raffle continue, and announcing to the delight of a packed house that if Yanmar won, they would give the $5,000 grand prize to the Chattahoochee Tech Foundation.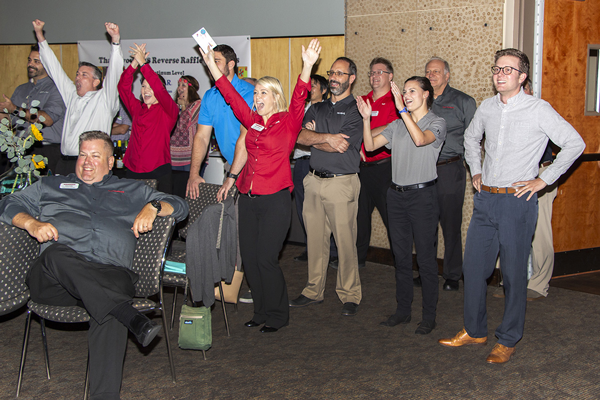 The audience cheered when the final ticket was drawn, and Tonsmeire announced that the winner was Yanmar. On behalf of the Chattahoochee Tech Foundation, the 2018 Reverse Raffle Chairman Susan Stephens, of Cartersville, thanked Yanmar for their enthusiastic generosity. More than a dozen Yanmar employees attended the 2018 Reverse Raffle along with Yanmar America President Tim Fernandez.
"What an awesome night that we were blessed to be part of," said Yanmar America President Tim Fernandez. "It is still hard to believe that we had one ticket in the drawing when they got to the last five tickets. We all believed in what the Foundation is doing and wanted a chance to give more."
"We erupted in cheers as they announced the big winner of the night was going to be the Chattahoochee Tech Foundation as Yanmar was the last remaining ticket," said Fernandez. "It was a very proud night for me to see our team selflessly give back."
The 2018 Reverse Raffle was held at the college's North Metro Campus in Acworth and featured a 1970s theme with entertainment provided by Atlanta DJ Mark McCain, formerly of 96 Rock, and Emcee Louis Tonsmeire, of Cartersville. Sponsors of the 2018 Reverse Raffle represented a broad spectrum of local companies who contributed funds that will go toward helping students at Chattahoochee Tech. Platinum sponsors each contributed $3,500, with Gold Sponsors each giving $2,500 and Silver Sponsors each giving $1,500. The team of sponsors for the Chattahoochee Tech Foundation's 2018 Reverse Raffle included:
WellStar Health System – Platinum Sponsor
Yanmar – Platinum Sponsor
North Georgia Staffing – Gold Sponsor
Cobb EMC – Silver Sponsor
Croy Engineering – Silver Sponsor
Georgia Power – Silver Sponsor
Toyo Tires – Silver Sponsor
Vinings Bank – Silver Sponsor
Westside Bank– Silver Sponsor
Woodstock Furniture & Mattress Outlet – Silver Sponsor
"The Chattahoochee Foundation greatly appreciates the support of these sponsors," said the Foundation's Board of Trustees Chairman Jason Anavitarte. "By helping Chattahoochee Tech students successfully complete their programs of study, we are helping to change lives. Our graduates become vital members of the communities in which they serve, and they become a valuable part of Georgia's skilled workforce."
The Chattahoochee Tech Foundation is a nonprofit 501(c)(3) organization that supports the college by working diligently to help make higher education an affordable reality for students at Chattahoochee Technical College. During Fiscal Year 2018, the Chattahoochee Tech Foundation awarded over $130,000 in scholarships, emergency funding, and program support to Chattahoochee Tech students. For more information, visit www.ChattahoocheeTech.edu.