The ExxonMobil Educational Alliance Program, Together With ExxonMobil Branded Wholesaler, Clipper Petroleum, Contributes $31,000 to 35 schools
Award supports math and science education
Clipper Petroleum, an ExxonMobil fuel distributor based in Flowery Branch, Georgia in partnership with the ExxonMobil Educational Alliance Program, announced today it has awarded 63 grants to K-12 schools in Georgia, South Carolina, and North Carolina as part of its commitment to support and strengthen local communities.
"We have a long history of supporting local neighborhood schools and consider it a privilege to invest our time and resources in the communities where we do business," said Ed Hong, Vice President at Clipper Petroleum. "It's extremely satisfying that, through the ExxonMobil Educational Alliance Program, we were able to donate $31,000 to support quality education programs, the foundation for individual opportunity and economic prosperity."
The ExxonMobil Educational Alliance Program is designed to provide Exxon and Mobil retailers with an opportunity to invest in the future of their communities through educational grants to neighborhood schools. ExxonMobil believes that, as members of the community, local retailers are best qualified to work with local educators to help identify schools and programs most in need of support.
Local schools are eligible to apply for Educational Alliance grants by partnering with their nearby Exxon or Mobil station, which are all independently owned and operated by authorized independent Branded Wholesalers. Every year, ExxonMobil awards 4,400 Educational Alliance grants to K-12 institutions across the country.
ExxonMobil is a long-standing supporter of education programs around the world, particularly in the fields of math and science, which are critical to success and innovation. Since its inception in 2000, ExxonMobil has committed over $34 million to the Educational Alliance, helping provide students with the tools and technology they need to connect what they learn in the classroom with what they see in the real world.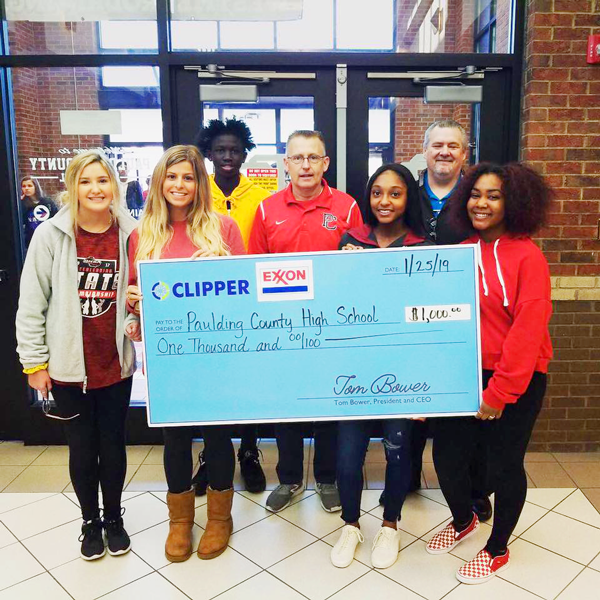 About Clipper Petroleum
Clipper operates retail stores and restaurants throughout Metro Atlanta, North Georgia, and South Carolina and Clipper Petroleum are recognized as one of the largest petroleum Distributors in the Southeast.
About ExxonMobil
ExxonMobil, the largest publicly traded international oil and gas company, uses technology and innovation to help meet the world's growing energy needs. ExxonMobil holds an industry-leading inventory of resources, is one of the largest refiners and marketers of petroleum products, and its chemical company is one of the largest in the world. For more information, visit www.exxonmobil.com or follow us on Twitter www.twitter.com/exxonmobil.