Chattahoochee Technical College Board of Directors Swears in New Board Member and Honors Retirees
Chattahoochee Technical College Board of Directors Chairman Mark Haney, Senior VP of Construction and Real Estate for WellStar Health System, hosted a meeting of the college's Board of Directors on Tuesday, June 11, at the WellStar Health System Development Center, where board members, along with college faculty and staff, toured the state-of-the-art facility and celebrated a year of top college achievements.
Under the direction of Board Chairman Mark Haney and Vice Chair Steve Holcomb, Past President and CEO of United Community Bank – Cherokee, the Chattahoochee Tech Board received Board certification from the Technical College Directors' Association. Contributing to this achievement were outgoing Board members Tyre Rakestraw, a retired educator, and Debbie Underkoffler, President of North Georgia Staffing, both of whom were honored at the Board of Directors meeting with awards for their many years of dedicated service. Retiring Board Member Pam Carnes, who serves as President and CEO of the Cherokee Chamber of Commerce, was honored at a May meeting of the Board.
Joining the Board as a new member was Tim Fernandez, President of Yanmar America. TCSG Board Member Jay Cunningham, President of Superior Plumbing, administered the oath of office to Fernandez and returning Board members Gerry Nechvatal, Cherokee County Representative, and Tonya Webster, Vice President for Customer Experience at Comcast Cable Communications. Board actions also included the Board Chairman passing of the gavel from Haney to Holcomb.
"We are very grateful for this energetic team of community leaders who are serving on the Chattahoochee Technical College Board of Directors," said Chattahoochee Technical College President Ron Newcomb. "Through their efforts to support and promote the value of technical education in Georgia, they are changing lives and improving our community." For more information, visit www.ChattahoocheeTech.edu.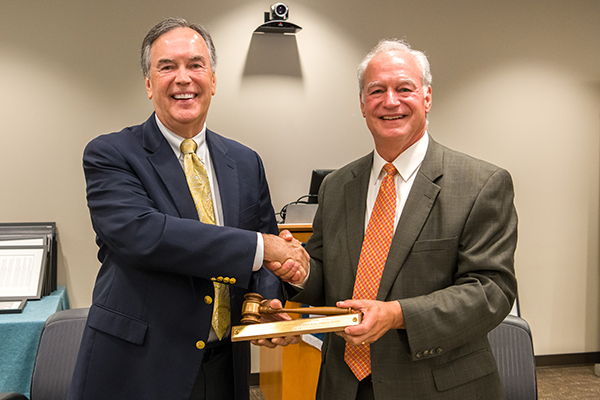 Retiring Board Chairman Mark Haney passes the gavel to incoming Board Chairman Steve Holcomb.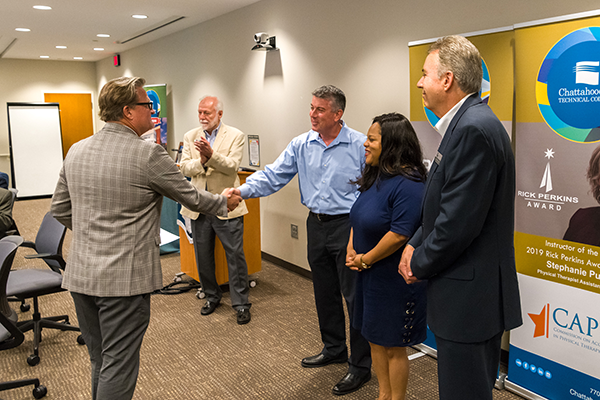 TCSG Board Member Jay Cunningham welcomes new Board member Tim Fernandez. Shown, l-r, are Jay Cunningham, Dr. Ron Newcomb, Tim Fernandez, Tonya Webster, and Gerry Nechvatal.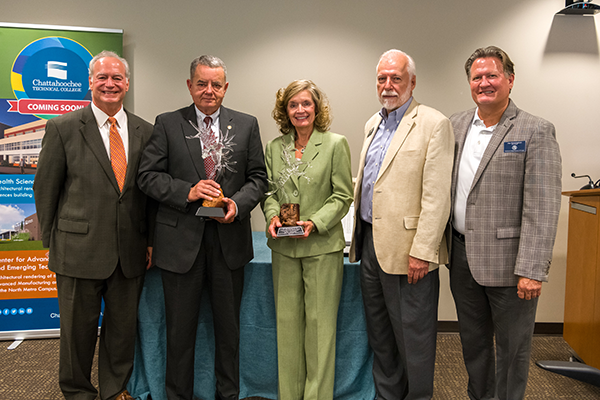 Retiring Board members Tyre Rakestraw and Debbie Underkoffler were honored with awards at the June meeting of the Board. Shown, l-r, are Mark Haney, Tyre Rakestraw, Debbie Underkoffler, Dr. Ron Newcomb, and Jay Cunningham.