Chattahoochee Tech Program in Registered Nursing Earns Another Top Three State Ranking
(Acworth, Ga. – Feb. 14, 2020) For the second year in a row, the Chattahoochee Technical College program in registered nursing has been ranked as one of the top three RN programs in Georgia by the nursing advocacy group RegisteredNursing.org.
Chattahoochee Tech is a respected provider of RN training, according to RegisteredNursing.org, which noted that Chattahoochee Tech's graduates are highly sought after for their professional and practical skills. The nursing advocacy group measured how well the state's 53 RN programs support nursing students toward licensure and beyond based on the pass rates of students taking the National Council Licensure Examination for Registered Nurses (NCLEX-RN).
"Hard work and dedication truly pay off," said Chattahoochee Tech Dean of Nursing Quetina Pittman-Howell, Ph.D., RN. "We're over the moon ecstatic about this ranking," she said, "and we're eager to keep developing innovative ideas that produce well-prepared nursing graduates." The Chattahoochee Tech Nursing program is a highly competitive, rigorous program involving classroom, laboratory, and clinical activities, noted Pittman-Howell, with 50 students now enrolled in the college's RN program, as well as 44 students enrolled in the college's PN program, for a current total of 94 nursing students at Chattahoochee Tech.
"A great majority of our nursing students have jobs prior to graduation," said Pittman-Howell. "The remaining are typically employed no later than two to three months after they graduate and pass boards." She noted that students typically find employment throughout the metropolitan Atlanta with health care providers that include Wellstar Health System, Piedmont Healthcare, Grady Health System, and Northside Hospital Healthcare System.
The top five 2020 best RN programs in Georgia according to the RegisteredNursing.org rankings are Georgia College, with a first-place score of 98.09; Kennesaw State University with a second-place score of 97.86; Chattahoochee Technical College, with a third-place score of 97.25; College of Coastal Georgia, with a fourth-place score of 97.07; and Emory University, with a fifth-place score of 95.84.
For more information, visit www.ChattahoocheeTech.edu.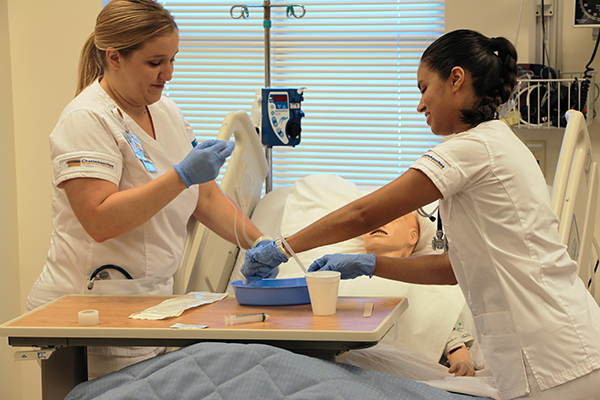 About Chattahoochee Technical College:
Chattahoochee Technical College awards certificates, diplomas and associate degrees in more than 50 programs of study for students to become highly skilled professionals in some of the nation's fastest-growing, high-demand career fields. A Unit of the Technical College System of Georgia (TCSG), Chattahoochee Tech is the largest technical college in the state with eight campus locations serving the counties of Bartow, Cherokee, Cobb, Gilmer, Paulding, and Pickens. The college also offers customized workforce training, continuing education classes, and adult education programs that include free GED preparation classes. More information is available at www.ChattahoocheeTech.edu.