Graduates of Chattahoochee Tech Physical Therapist Assistant Program Continue in Work to Help Patients During COVID-19 Pandemic
Physical Therapist Assistant Ashley Moore, who was in the first PTA graduating class at Chattahoochee Technical College 11 years ago, remains hard at work with her colleagues at a skilled nursing facility in Cobb County during the global COVID-19 coronavirus pandemic.
Moore graduated from Chattahoochee Tech in 2009 with a PTA Associate of Applied Science degree. She is working as a PTA for Aegis Therapies at Presbyterian Village in Austell, where she also serves as the Therapy Coordinator for the Rehab Department. Serving with her as PTAs at this location are 2017 Chattahoochee Tech graduates Kelsie Odom and Kimberly DeLeon.
The work of a PTA involves skilled therapy sessions with patients to improve function and mobility according to a patient's individual needs, according to Moore. "We work with these patients to help build strength, compensatory strategies, and regain independence," said Moore. "Teaching a patient to walk again or gain the independence to get themselves out of bed and into their wheelchair is a part of my job that never grows old," she said. "Every time I watch a patient leave the facility with their family on their discharge day, it reminds me that no matter how hard some days are, I am making a difference in someone's life."
But a typical day on the job during the COVID-19 pandemic for a PTA in a skilled nursing facility presents additional challenges. In order to protect their patients, Moore and her colleagues must engage in stringent measures that are carefully designed to limit the risk of infection. "It is scary, but as healthcare professionals, we have to be there to help. Walking into my job, I must sanitize my hands, have my temperature taken, and monitor my oxygen levels," said Moore. "I wear special equipment called Personal Protective Equipment (PPE) with all my patients." As an added measure of protection, she noted that the patients are all on isolation.
"My patients are so often scared and lonely, and I am the only person who is spending a large amount of time with them at once," said Moore. "I work to cheer their spirits." During a skilled therapy session with a patient, she also offers reassurance by sharing information about the measures being taken to protect them.
Despite the additional challenges presented during the global COVID-19 pandemic, Moore remains steadfast in her commitment to serving with her team as highly skilled healthcare professionals. "I love my job, and I enjoyed being in the Chattahoochee Tech PTA program," said Moore. "It was hard, but I am grateful for everything I was taught, and for the friendships, I made there. My favorite thing about Chattahoochee Tech was how much the faculty cared about me as a student and a person. They went above and beyond to teach me everything I needed to start my PTA career with a good foundation."
For more information, visit www.ChattahoocheeTech.edu.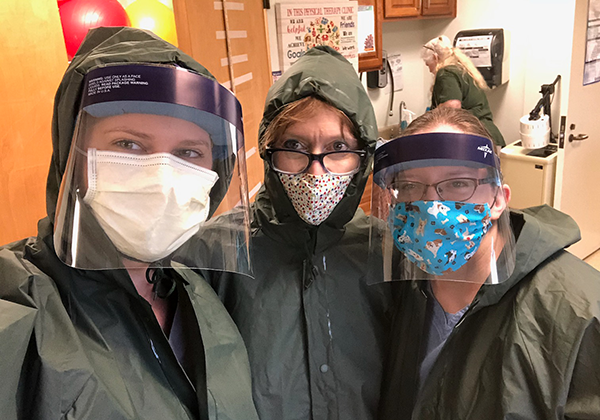 Photo 1:
Shown here, l-r, are Chattahoochee Tech graduates Kelsie Odom, Kimberly DeLeon, and Ashley Moore, who are working as Physical Therapist Assistants (PTA) at a skilled nursing facility in Cobb County.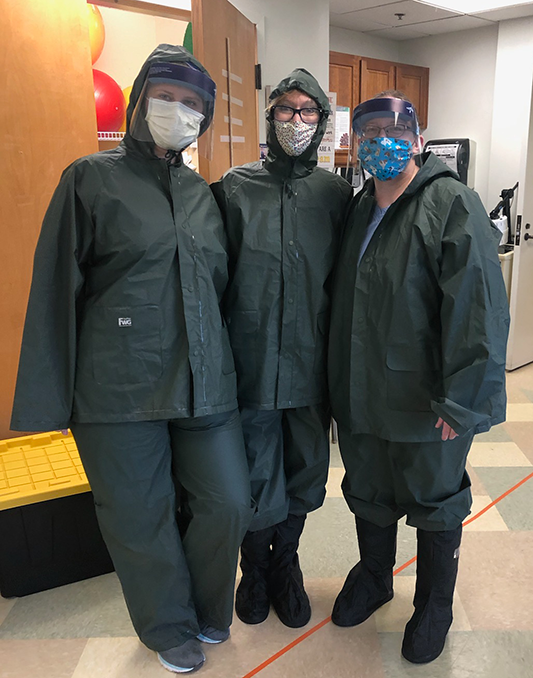 Photo 2:
Wearing Personal Protective Equipment (PPE) is part of the daily routine for these health care professionals during the global COVID-19 coronavirus pandemic.