Chattahoochee Tech Presents 2020 Alumni of the Year Award to Surgical Technologist Dustin Cain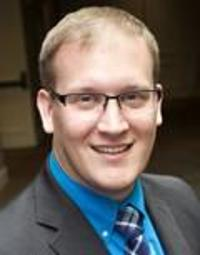 Chattahoochee Technical College has presented its 2020 Alumni of the Year award to Surgical Technologist Dustin Cain.
Cain graduated from Chattahoochee Tech in 2012 with an Associate of Applied Science degree in Surgical Technology. In addition to working full time at Northside Alpharetta Outpatient Surgery Center, Cain works part-time in the Surgical Technology Program at Gwinnett Technical College. He also serves as president of Georgia's professional organization of Surgical Technologists, the Georgia State Assembly (GASA) of AST. The Association of Surgical Technologists (AST) was established in 1969 by members of the American College of Surgeons (ACS), the American Hospital Association (AHA), and the Association of periOperative Registered Nurses (AORN). Today, surgical technologists are working in one of the fastest-growing professions in the country.
In 2019, AST awarded Cain the Fellow of the Association of Surgical Technologists (FAST) designation for his exceptional service and success in achieving the highest professional standards. Included among his achievements, Cain founded "Stuffed Animals for Children," which has donated thousands of stuffed animals and children's books to Children's Healthcare of Atlanta Urgent Care.
"Chattahoochee Technical College not only provided me with the education needed to succeed as a Certified Surgical Technologist, but also taught me leadership, integrity, and benevolence," said Cain. "My instructors encouraged me to go above and beyond the status quo, and those lessons are still with me in many aspects of my career."
Chattahoochee Tech Surgical Technology Program Director Lorraine Wilderman nominated Cain for the college's Alumni of the Year award. "Because of his work at Chattahoochee Tech and in the surgical technology field beyond, it was my pleasure to nominate Dustin Cain for this award," said Wilderman. "I can think of no better graduate for this honor."
For more information, visit www.ChattahoocheeTech.edu.