Chattahoochee Tech Foundation Presents 2020 SPARK Workforce Benefactor of the Year Award to Lockheed Martin
The Chattahoochee Tech Foundation has presented Lockheed Martin with the 2020 SPARK Workforce Benefactor of the Year award to honor their significant role in helping Chattahoochee Tech students while serving local workforce development needs.
As one of the college's most steadfast contributors for nearly 25 years, Lockheed Martin has provided annual scholarships for Chattahoochee Tech students who are studying to become skilled professionals in essential and high-demand career fields. An endowment created by Lockheed Martin will allow students to receive scholarships for many years to come, further creating a legacy of student support and workforce development.
"In supporting our students, Lockheed Martin is supporting workforce development in the community," said Chattahoochee Tech President Dr. Ron Newcomb. "They are ensuring that students can continue with an education that prepares them to become the highly-skilled graduates needed in today's workforce."
One of the largest employers in Cobb County, Lockheed Martin is a global security and aerospace company. The Chattahoochee Tech Foundation initiated the SPARK Workforce Awards in 2019 to honor those who have actively supported Chattahoochee Tech students and college programs through significant and meaningful contributions that change lives and support workforce development.
For more information, visit www.ChattahoocheeTech.edu.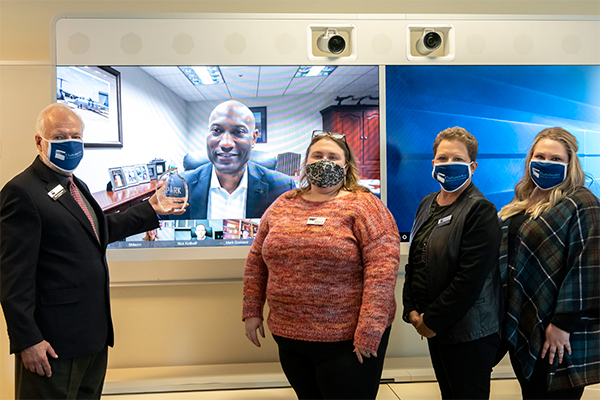 Photo Caption: Roderick McLean accepted this award on behalf of Lockheed Martin in a virtual presentation. Shown here, l-r, are Chattahoochee Tech President Dr. Ron Newcomb, Lockheed Martin Vice President and General Manager Roderick McLean, Chattahoochee Tech Board of Trustees Secretary and Win-Tech, Inc. President Allison Giddens, Chattahoochee Tech Vice President for Advancement Jennifer Nelson, and Chattahoochee Tech Advancement Coordinator Amanda Henderson.
About Chattahoochee Technical College:
Chattahoochee Technical College awards certificates, diplomas, and associate degrees in more than 50 programs of study for students to become highly skilled professionals in some of the nation's fastest-growing, high-demand career fields. A Unit of the Technical College System of Georgia (TCSG), Chattahoochee Tech is the largest technical college in the state with eight campus locations serving the counties of Bartow, Cherokee, Cobb, Gilmer, Paulding, and Pickens. The college also offers customized workforce training, continuing education classes, and adult education programs that include free GED and HiSET preparation. More information is available at www.ChattahoocheeTech.edu.