PCHS JROTC Patriot Battalion Semester of Excellence
The Paulding County High School's (PCHS) Junior Reserves Officers Training Corps (JROTC) program, The Patriot Battalion, has had a very busy semester and continues its tradition of making better citizens and creating a positive environment to develop leadership excellence. The battalion hosted its annual cookout and commissioning ceremony in August to familiarize new Cadets and their families with our program and for Cadets appointed into key leadership positions at the beginning of every school year to be formally recognized and promoted by their families. This year's Patriot Battalion Commander is Cadet Luke Leathers, a Senior who aspires to attend a four-year university and become a military doctor.
The battalion's ceremonial Color Guard and Saber Guard had a very busy semester as well. JROTC Cadets had the honor of presenting the Colors at numerous school and community events and presented the customary Saber Arch at the Homecoming Football game in September. All of our Cadets performed magnificently and represented our unit with pride and distinction.
The Raider Challenge team is one of JROTC's most popular special teams. It involves competing against other JROTC programs in our area in physically demanding events. At the end of August, PCHS hosted a scrimmage Raider meet, allowing other teams from different schools in our local area to practice their skills before the season began. The battalion's Female Raider team qualified for the state meet at Spalding High School in Griffin, GA, and both teams attended the National Raider meet at the beginning of November in Molena, GA. Three of our other special teams began their seasons after the Raider season ended; including competitive Drill and Color Guard, as well as the school's GHSA competitive Air Rifle team. Air Rifle is the only team led by JROTC that allows students not in JROTC to join and participate.
Each holiday season JROTC sponsors food drives for families in need before Thanksgiving break and Christmas break every year. The battalion itself collected enough food items to assemble Thanksgiving dinner boxes including turkeys for 10 of our PC Families. In conjunction with the PCHS Chick-Fil-A Leader Academy, this year's Christmas food drive collected over 800 items within the school which was donated to PC Families and the Dallas Helping Hands for those in need during the holidays.
Inter-battalion competitions are a key motivator to building esprit de corps within the unit. This November, JROTC had their second annual Turkey Bowl, where Cadets played flag football amongst the companies. This year's Turkey Bowl Champion was Alpha Company.
Every semester, Cadets can participate and compete against their peers in other companies in Cadet of the Month Boards. Winners of the Cadet of the Month (COTM) for September, October, and November were Cadets Brendan Sexton, Kaili Parker, and Landon Hobbs respectively. The Cadet of the Semester Board is then held in December to determine the best Cadet for that semester. The Cadet of the Semester winner was Cadet Landon Hobbs from Charlie Company. At the end of the school year, each Cadet of the Semester's winners will compete for the Patriot Battalion Cadet of the Year.
At the end of each semester, JROTC has Squad and Platoon Drill competitions where Cadet leaders in each company can compete against each other in a regulation drill routine. This year's squad and platoon drill competitions winners were Joshua Griffith (Platoon) from Bravo company and Mason Fleming (Squad) from Charlie company.
Best overall companies are also recognized for their physical competitiveness and administrative excellence, where winners will receive a streamer for their company guidon. Patriot Games is an inter-battalion competition to determine the most physically competitive company that performs as a team. This semester's Patriot Games Champion was Bravo Company. Honor Company is an overall administrative competition between companies to determine the best company of that semester in volunteerism, promotions, drill competitions, and Cadet boards. The Frist Semester Honor Company winner was Charlie Company. Congratulations to all of our Cadets on a fantastic semester of civic learning and leadership excellence!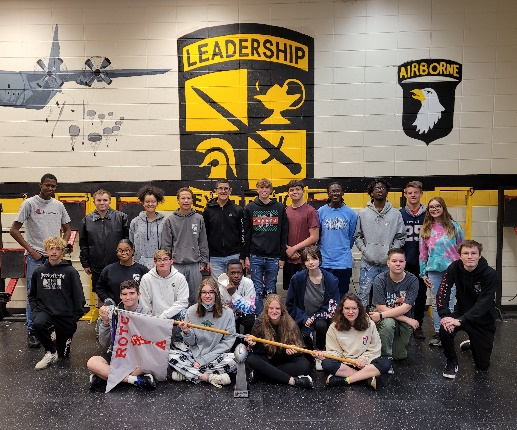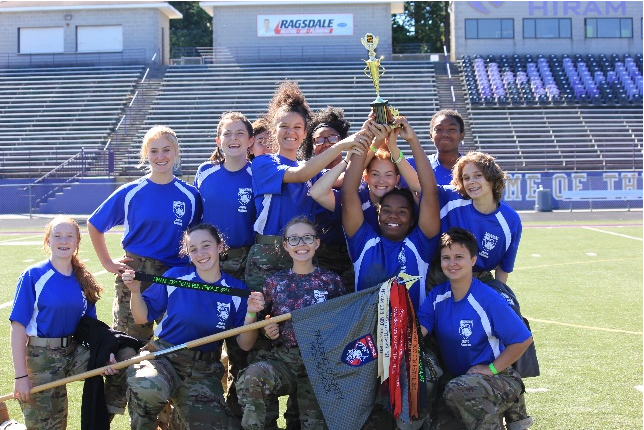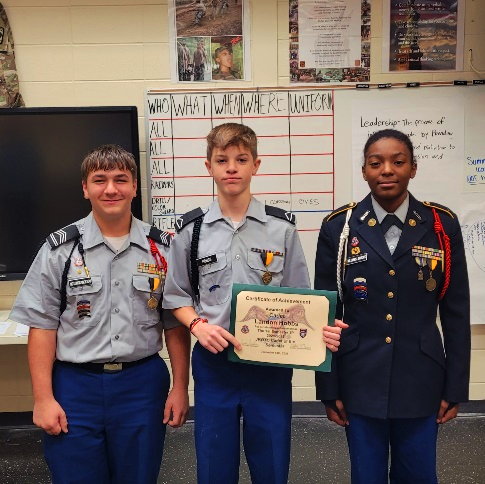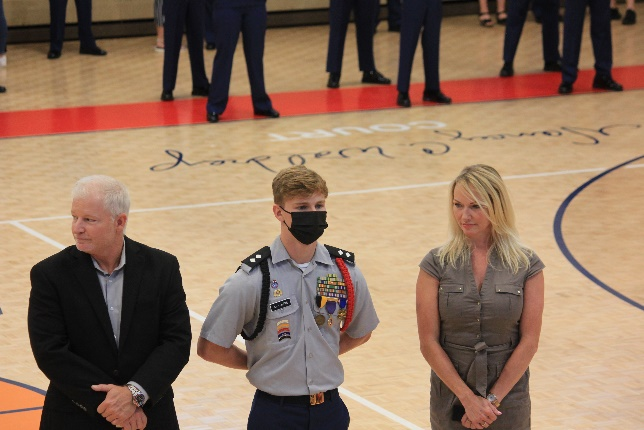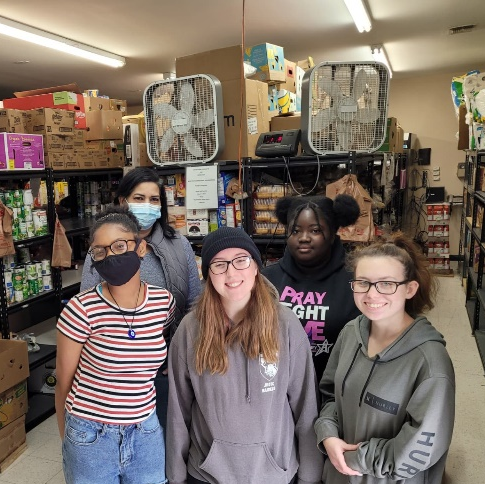 By Cadet Captain Abigail Riggs, Photos courtesy of Cadet Corporal Kayla Witcher