Fall 2021 Commencement Ceremonies Honor Chattahoochee Tech Graduates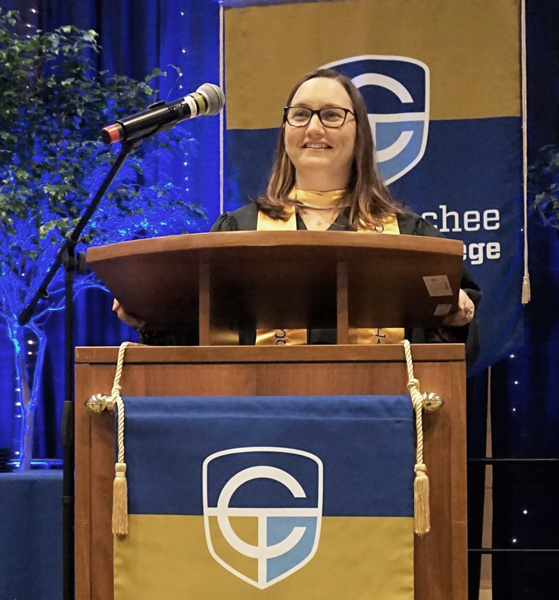 (Acworth, Ga. – Dec. 17, 2021) Chattahoochee Technical College students celebrated graduation from the state's largest technical college during commencement ceremonies held Thursday, Dec. 16, at the Clarence Brown Conference Center in Cartersville.
With more than 500 Chattahoochee Tech students graduating this fall, over half of them participated in the college's graduation event. These students crossed the stage to receive their associate degree, diploma, or technical certificate of credit in programs of study that have prepared them to become highly skilled professionals in some of the nation's fastest-growing, high-demand career fields.
Popular areas of study for these students included nursing, radiography, and health care management, as well as cybersecurity, and logistics and supply chain management. Graduates also pursued skilled workforce training in programs of study that included automotive technology, electrical and computer engineering, film and video production technology, and early childhood care and education. Also included among the fall 2021 graduates were 11 veterans and two Dual Enrollment high school students.
Chattahoochee Tech President Dr. Ron Newcomb congratulated the graduates for their perseverance in completing their programs of study. Delivering the commencement address for both ceremonies was Chattahoochee Tech English Instructor Jennifer Staton, the college's 2021 Rick Perkins Instructor of the Year award recipient. "As you leave here today, go with discernment, humility, and love," said Staton. "And remember that the steepest hills come with the greatest rewards."
A unit of the Technical College System of Georgia (TCSG), Chattahoochee Tech has eight campus locations serving the counties of Bartow, Cherokee, Cobb, Gilmer, Paulding, and Pickens. The college also offers customized workforce training, continuing education classes, and adult education programs that include free GED and HiSET preparation classes.
For more information, visit www.ChattahoocheeTech.edu.