For a limited time, the public and students at GHC can view exclusive art from the Booth Western Art Museum Photography Guild Exhibit.
"We try to host a new exhibit each semester at our GHC Libraries, and we especially try to find local or regional artists to spotlight," said Elijah Scott, GHC Dean of Libraries, College Testing, and Curriculum Innovation.
He went on, "I think it's important for our students to see the creative and artistic work that happens in their own communities! Sometimes we think that 'art' happens only in large cities, or was created only by the Old Masters, but art happens every day in the Northwest Georgia area. It is critical that our students experience the work of local artists as a way to encourage them to explore and express their own creativity."
Scott explained that the Booth Western Art Museum is a Smithsonian-affiliated, 120,000 square foot facility located in downtown Cartersville, which is the second largest art museum in the state of Georgia. The museum was formed in 2010 and now has over 180 members.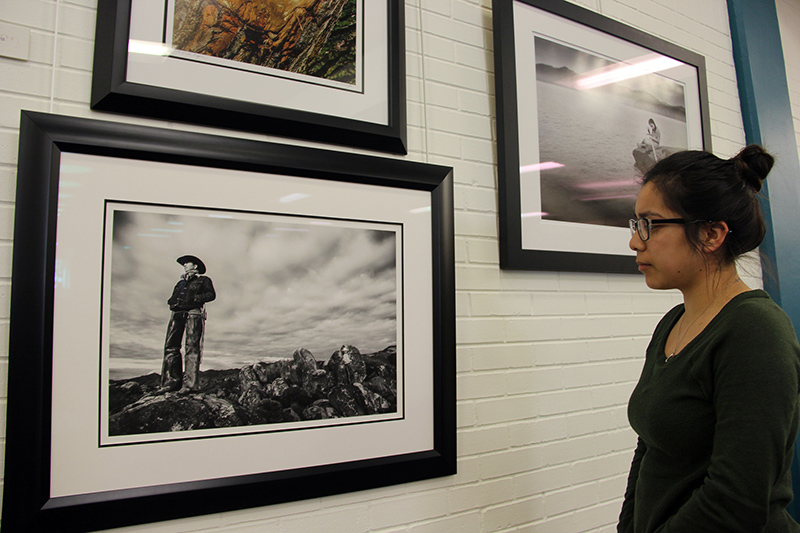 "I reached out to the Booth Western Art Museum in August to explore opportunities for collaboration and to host exhibits," Scott said. "Seth Hopkins, executive director of the Booth Museum, expressed an interest in working with the college to exhibit works from the museum."
Scott stated that hosting the exhibit at GHC serves multiple purposes, from exposing students to the local museum to giving the museum itself another outlet for exposure to the community.
"Plus," Scott added, "Many people don't realize that our GHC libraries are open to the public and that they can obtain a library card for free. We welcome everyone from our communities to visit our libraries and to experience firsthand how GHC can be a gateway for success."
The photography is currently on display and can viewed for free during library hours. About half of the exhibit is at the Floyd Campus Library, another half at the Cartersville Campus Library, and two prints are on exhibit at the Paulding Campus Library. (For more information on library hours, please visit: http://getlibraryhelp.highlands.edu/home.
Two receptions will also be held and will be free and open to the public on: Wednesday, March 9 in the Cartersville Campus Library at 3:00 p.m. to 6:00 p.m. and Saturday, March 19 in the Floyd Campus Library at 2:00 p.m. to 5:00 p.m.