There were only 7 students in the Georgia Highlands African American and Minority Male Excellence (GHAME) initiative on one campus in 2009. GHAME grew over the years and eventually established its own Brother 2 Brother (B2B) student organization with over 120 students on all five of GHC's campuses. GHAME pushed to make its B2B chapter one of the best in the nation. And it succeeded. Over 300 chapters across the country vie for a single annual Outstanding Chapter of the Year Award given by the national organization Student African American Brotherhood (SAAB). GHC's B2B won for the third time in four years in 2015. But it's not the accolades that draw students in. It's not the mission statement. It's not even the astounding enrollment, retention and/or graduation statistics of its members. It's the brotherhood itself.
Ask Evan Snelling. Evan was a high school basketball player from North Cobb. Saying he was good might be an understatement. "I was ranked as one of the top players in the state," he said. "I had multiple Division 1 offers." Evan knew who he was, knew who he was going to be: a basketball player. And then… "We had basketball practice one morning," he said. "I got hit by a car." If you hear it firsthand, Evan instinctively points to areas that were affected by the hit, pausing at one along his neck. "I broke my tib and fib completely," he said, "and every bone in my neck—except one—the one that paralyzes you." "That changed everything," he continued. "I knew that my basketball career was over, but my education didn't have to be." Evan said he enrolled at GHC to get started and had a rough first semester as he tried to put himself back together in the aftermath of losing his dream of playing college basketball.
Luckily, he will tell you, GHAME and B2B Director Jon Hershey walked into the college basketball gym where he was taking his mind off classes for a while and handed him a card. A week later Hershey found Evan again and told him about a B2B meeting. Evan said he had every intention of not going, but he did. "I just fell in love with the organization," he said. "It definitely helped me. It's this brotherhood. It's a lot of people just like you all striving toward the same goal. It changed my perception. I was very lucky Dr. Hershey stopped me that day and asked me to join." Evan graduated from GHC and is now working on his bachelor's. He plans to take his studies to the graduate level next. But Evan isn't alone in being touched in a life changing way by GHAME and B2B.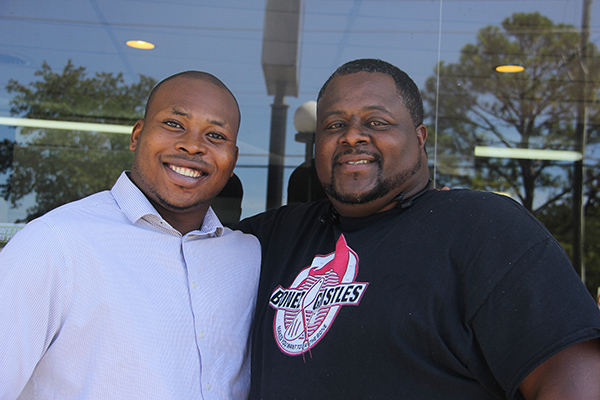 Eric Mosley will raise three fingers, shake his head and smile as he tells you what came between working an everyday job and opening his own barbecue restaurant called Bonez & Gristles. "Three classes stopped me from advancing in my job life. I had opportunities to be manager of a company or to do other things, but as good as I was, I couldn't move up," he said. "Earning my degree gave me the encouragement to say to myself that I can really do and accomplish anything. When I look back, all it was that was stopping me were those three classes." Eric started college like most traditional students. But before he finished he turned his attention to some community volunteer opportunities he'd become passionate about. The more time he gave to his passion, the more he slowly pulled away from finishing college. Years later after he got married and had kids of his own, he started thinking about going back to finish his associate degree.
"I just thought, man, I'm too smart to be sitting around here not running something. My wife said, 'You need to go back to school.' I told her, 'I've been gone so long, I probably have to start all the way over.' But I prayed about it and said if it's supposed to happen, it will. And one day out of the blue, I ran into Dr. Hershey. He said, 'Eric, when are you going to come back and finish school? I cannot retire, until you finish school.'" Hershey took Eric under his wing and helped him find out what courses he needed to finish. It ended up being three classes in all. Eric told himself he had to finish those three classes. "Hershey brought up B2B. When I first met Dr. Hershey when I was first going to school, we had talked about starting a group to bring minorities together. Fifteen years later, I come back and everything that we had talked about was put into action." Eric said his last class was statistics. And he said without the support of GHC, GHAME, and B2B, he never could have finished. But he did. Tackling statistics with a "B," no less. "GHAME helps change lives at GHC. It lets young men know that they can succeed—that we can accomplish what we set our minds to," he said. "B2B is that togetherness, that support. That's what makes it all worth while."
After graduating, Eric started his own restaurant in Rome. Outside of operating his business, Eric still loves reaching out and helping the community. Now he uses his story about GHC and B2B to inspire others to do like he did. "Now when I go do my speaking engagements I can tell people to finish what you start. It's never too late to go back and get an education," he said. "It was a great accomplishment to walk across that stage. I had a great support system with the leaders of the school, with GHC and with B2B."