Hiram High School will be implementing an innovative new way for the student body to learn about and take care of their finances next school year by teaming up with MembersFirst Credit Union. The credit union will build a brand-new, full-service, branch inside the school. Students and faculty can manage their accounts just as they would at any other MembersFirst branch, but the tellers at this branch will be Hiram High School students. "What makes our branch unique is the operational structure. Our students will manage the day to day operations and not only serve as tellers but also as financial advisors," said Ms. Ronnetta Simpson, assistant principal of Hiram High School, and Paulding County's Administrator of the Year. "We wanted to push the envelope; in addition to the hiring the highly trained student tellers this partnership has also employed four additional student interns (Project Manager, Marketing Director, Web Designer, and Graphic Artist) to assist with credit union operations. These students work under the direct leadership of MembersFirst executives in like positions and are a part of the Work Based Learning program ran by Ms. Angela Johnson, Hiram High School's Teacher of the Year. Ms. Simpson is teamed up with Ms. Angie Holland, who is in charge of the credit union's Business Development, who added, "It's going to be a great opportunity for the students as well as for MembersFirst."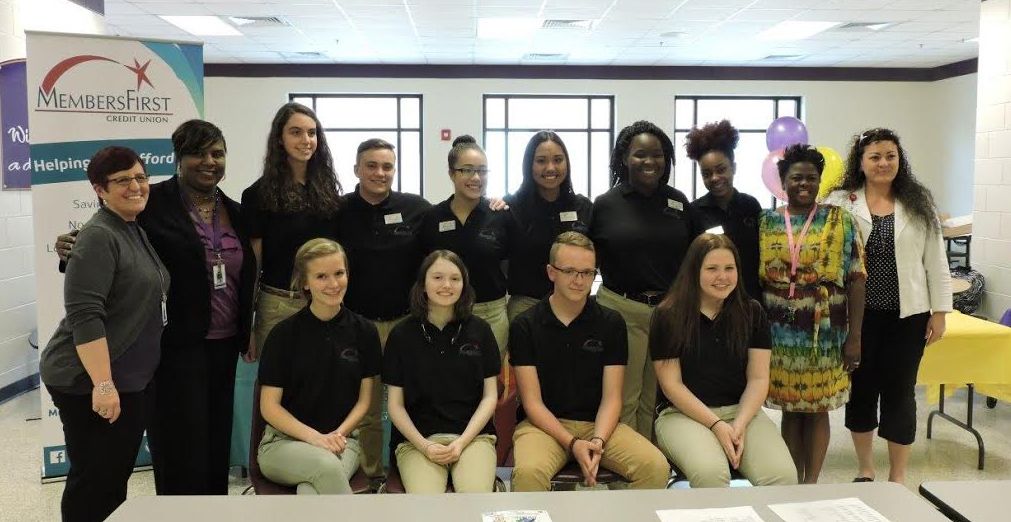 How can students run a full-service credit union? These aren't just any students; these trained tellers are part of a new career pathway at Hiram High School, Financial Services, taught by Ms. Michelle Stubbs. As part of the Career, Technical, and Agricultural Education (CTAE) program, Financial Services will consist of three, consecutive, one-year classes that will focus not just on educating students, but providing them with skills and training that can directly transfer to future jobs. The Credit Union will officially open August 2016 and will be available to handle Hiram High student and faculty credit union transactions five days a week, during lunch periods and after school.
Ms. Stubbs (Hiram High School New Teacher of the Year) explained. "As students matriculate through the pathway, they are opened up to job-shadowing opportunities, internship opportunities, and now, thanks to MembersFirst, an actual externship program with the credit union." Stubbs' students have been employed with MembersFirst since December and are trained by Ms. Sjohnell Thompson, an official from MembersFirst. After training, they will work in the high school's branch, and will also complete externships with a local MembersFirst, working as tellers. Nathalie Silva-Sosa, a junior at Hiram and a teller for the high school's MembersFirst branch, is one of the students participating in this externship program and has already begun working at a local branch of MembersFirst. "I think this is going to help me out in the future way more than I expected it to," Nathalie stated. "I plan on owning my own law firm one day, and a good understanding of finances is key to managing a business. This has been such a great opportunity for me and I'm so grateful for it."
Partnerships between local businesses and the Paulding County School District in career education are increasing and this innovative partnership between Hiram High School and MembersFirst could open the door to a whole new realm of educational opportunities for the district's students. Businesses also benefit from having a well-educated and highly-trained workforce.