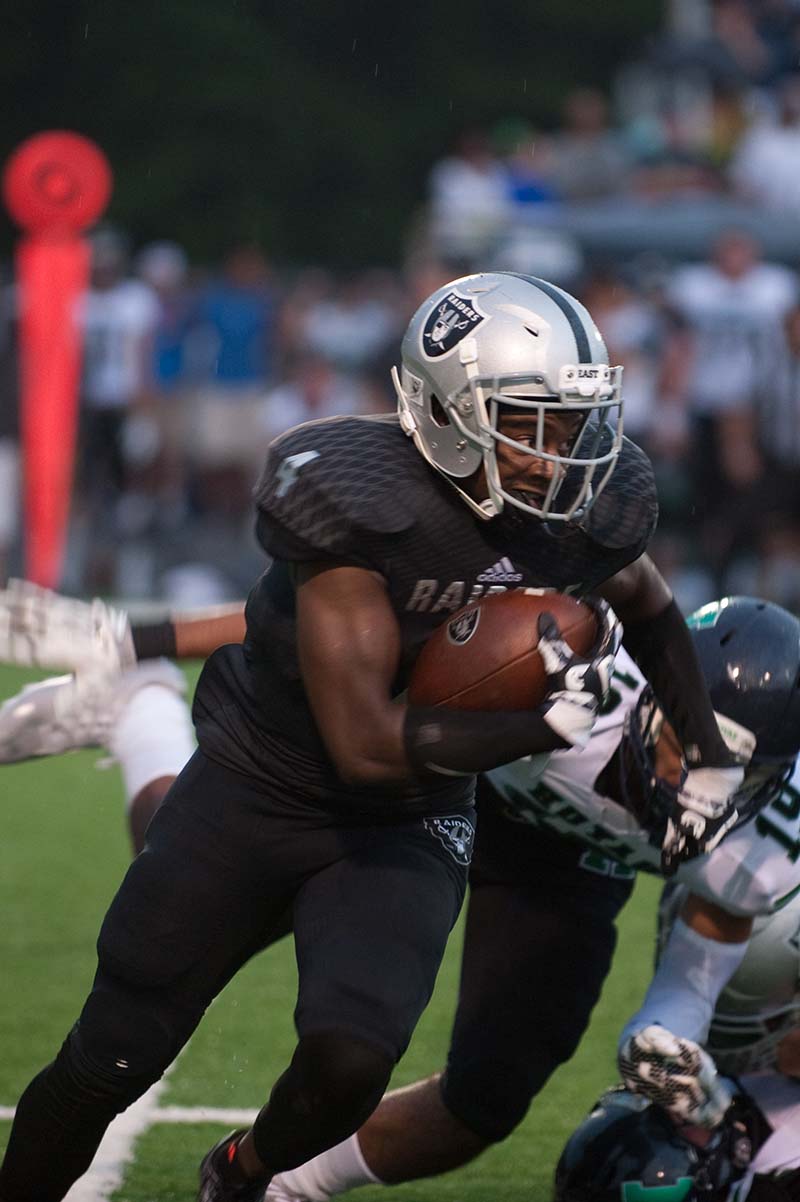 The East Paulding Raiders suffered their largest point loss, 45-14, to the Harrison Hoyas. The Raiders have not seen such a large loss since 2004 against Rome (47-6).
The Raiders left the Hoyas receivers open to make some big pass plays, the first allowed the Hoyas to score their first TD with the Hoyas #11 long ball catch. A few East Paulding bad snaps left the Raiders offence scrambling to avoid fumbles and sacks. They Hoyas went into half time with a 42-7 lead over the Raiders.
Blake Martin set up the Raiders for their first TD after a 69 rush putting the Raiders on the 4 yard line. Tyrell Robinson 4 yard rush gave the Raiders the TD. The last Raiders TD did not come until the third quarter when Dylan Prater rushed 8 yards in the third quarter.
The Raider will have an off week and travel to North Paulding on September 2 for the 2nd non-region game of the season. The Raiders are 5 and 1 against the Wolf Pack.
Attendance from Left to Right Paulding County Director of Safety and Athletics Mr. Don Breedlove, Associate Superintendent Dr. Brian Otott, EPHS's Athletic Director Mr. Brad Thomason, Sheriff Gary Gulledge, EPHS DECA V.P. of Hospitality Kiley Freeman, EPHS's Principal Mr. Jason Freeman, Paulding County Executive Director for High School's Dr. Susan Browning, Paulding County Superintendent Mr. Cliff Cole, Puckett EMS & Executive Director of Paulding Education Foundation Jim McMichen, EPHS DECA Secretary Hannah Varnum, Chief Joey Pelfrey, Battalion Chief Matt Myers, Manager of Paulding County Services with Metro Ambulance Service Karen Robinson, EPHS DECA V.P. of Competitive Events Mollie Jackson, EPHS Cheerleaders.
Above RH: Blake Martin breaks free of the Hoyas defense to rush 69 yards. Tyrell Robinson 4 yard rush gives the Raiders the 1st TD of the game Dylan Prater 8 yard rush gave the Raiders the second and final TD of the game.