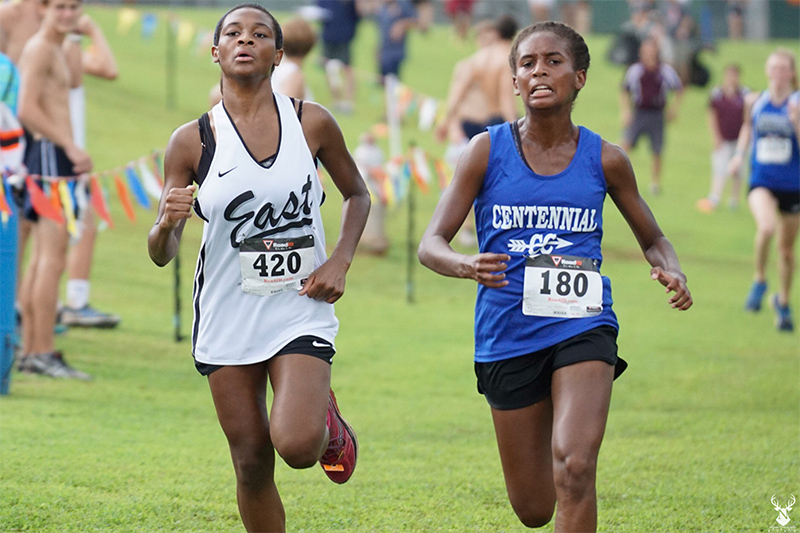 The first race of the cross country season for East Paulding happened this past weekend in Jasper, GA. The Raiders brought a very inexperienced squad up to compete with teams across the state at the Pickens Preview.
The first race of the day was the Varsity Boys, and last year's 8 th place county finisher Trevor Robinson. He came through the first mile in 5:47, and was followed by two packs of teammate's further back. Trevor was the top finisher for the Raiders, 38 th overall in a time of 18:47. Kaleb Scott, sophomore, moved up throughout the race and by mile two had Trevor in his sights. He closed the last mile to finish 45 th overall in 18:54. Patrick Pugh 19:53, Sterling Bethel 20:19, and Jacob Hansen 20:19 rounded out the top 5. The boys finished 12 th out of 15 teams.
The second race was Varsity Girls, which only has five returners from last season. Senior, Lexi Geiger led the girls throughout the race, and finished 52 nd in 23:53. Another senior, Grace Wooley was next in line for the Raiders finishing 61 st in a time of 24:37. Chloe Chin had a great finish and closed the gap from her to Grace, finishing in 64 th place in 24:49. Avis Hulsey 25:49, Brylie Galeazzo 27:29, and Anna Crusselle 27:30 rounded out the top 6. The girls finished 10 th out of 13 teams.
The JV races had some excitement. In the JV Boys race, 3 freshmen led the way for the Raiders, Christopher Schaller 20:36, Keegan Scott 21:19, and Patrick Reeder 22:24. Austin Bastis and Joshua Napier rounded out the top 5 and a 12 th place team finish. On the JV Girls side, four new runners led the way. First year junior runner Sophia Bethel blazed the course finishing 18 th overall in 24:35. She was followed by three 8 th graders Maddie Bolin, Bunny Geiger, and Catherine Basch. Mekenna Lawrence rounded out the top 5 and a 7 th place team finish.