NORTH PAULDING VS. WOODSTOCK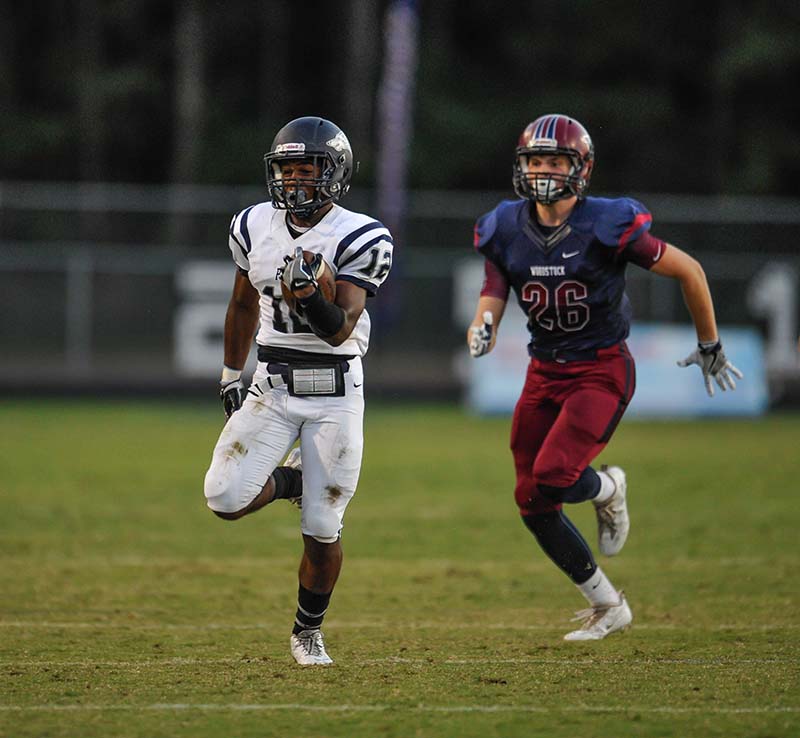 The North Paulding Wolfpack traveled to Woodstock High School to battle at the woodshed. The Wolfpack stopped Woodstock on their first drive, forcing them to punt. North began the first of many successful drives. #5 Ross Malmgren connected with #81 Chad Terrell for a 44 yard touchdown, putting North on top 7-0. They never looked back after that. #1 Easton Murphy picked off a pass from #6 Garrett Bass. #12 Brian Mitchell takes one to the house making it a 14-0 game halfway through the first quarter. After another Woodstock punt, Quarterback Malmgren once again connects with Mitchell for a 78 yard touchdown. Score at the end of the first quarter, North 21 and Woodstock 0.
North started the second quarter with excellent field position near midfield. Several costly penalties hurt the Wolfpack and then #17 Land Dixon picks off a Malmgren pass on the Woodstock 26 yard line stopping the pack for the first time all night. After another Woodstock punt, Malmgren hits #24 Zion Hawkins for a 35 yard touchdown. The Woodstock Woes continue to the next drive when #43 Oliver Eliezer picks another Bass pass taking it to the Woodstock one yard line. #44 Tyler Bird lines up with a wildcat formation and powers it in, making it a 35-0 game with 5:46 left until half. Woodstock begins what seemed to be a successful drive, but once again the Wolfpack defense hold their own forcing Woodstock turn the ball over on downs. Malmgren continued his magic connected once again with Chad Terrell for a 23 yard TD. Score at half was 42-0 North.
After half, the Wolfpack replaced many starters with replacements and after having to punt for the first time all night; Woodstock finally got on the score board when Bass connected with #2 Logan Cox. Score after three was 42-7 Pack.
Woodstock scored once more in the 4th quarter from the 1, when running back #21 (name unknown) scored. Terrell had one more score from 9 yards out and Woodstock scored late in the game making the final 49-21 Wolfpack. Wolfpack will travel to Cherokee next Friday night hoping to continue their undefeated season.

Stats for the game:
Ross Malmgren 20-23, 411 yards and 6 TD's
Brian Mitchell 5 receptions, 190 yards, 2 TD's
Chad Terrell 6 receptions, 117 yards, 3 TD's
Zion Hawkins 8 receptions, 97 yards, 1 TD
Lucas Mays had 10 carries for 56 yards
Tyler Bird 1 carry, 1 TD
Interceptions by Easton Murphy and Oliver Eliezer
Fumble recovery by Jalen Parks