NORTH PAULDING VS. CHEROKEE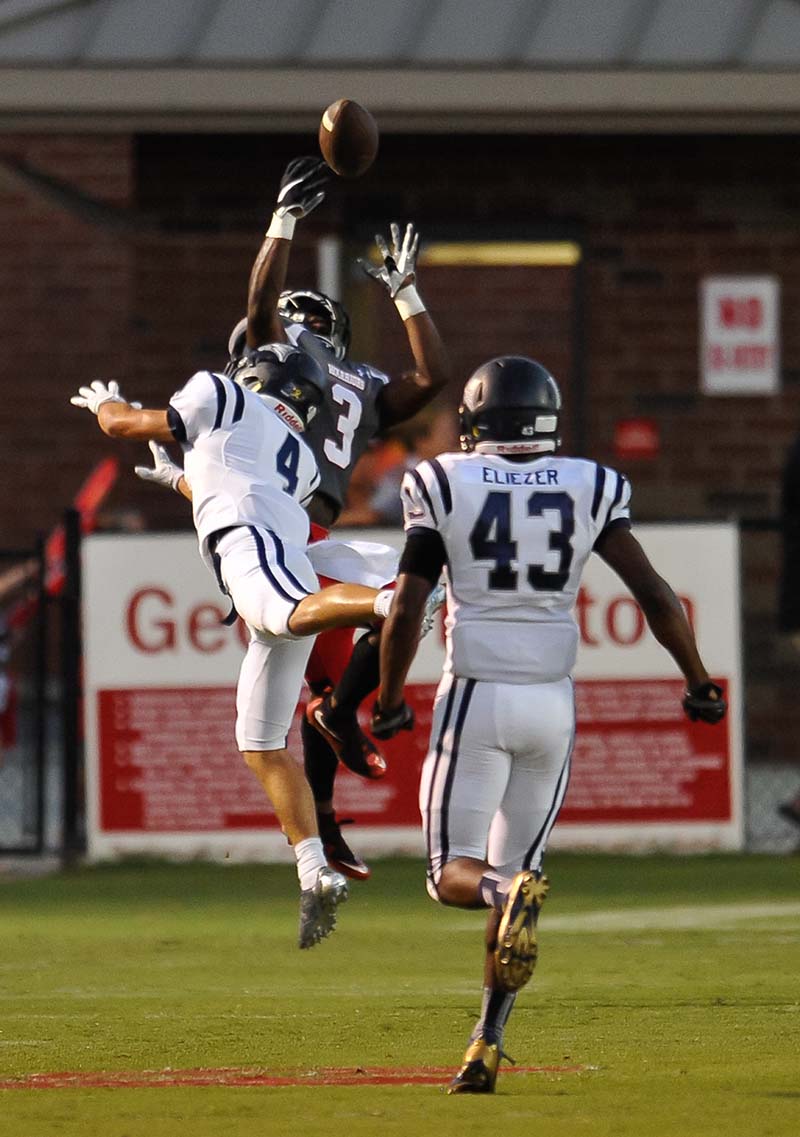 The Wolfpack was on the road again at Cherokee High School. The game began with both teams quickly trading turnovers with the other. Cherokee scored first but North drove down and got on the board when Ross Malmgren connected from 3 yards out to Chad Terrell. Cherokee returned the kickoff into North P territory. Cherokee's drive stalled but #39 was able to kick a 37 yard field goal making it a 10-7 ballgame at the end of the first qtr.
Cherokee intercepted a tipped pass early in the second quarter near midfield. North got the ball back and drove it down to the Cherokee two where #2 Hite ran the ball in making it a 14-10 game at half.
Mid way thru the third quarter Cherokee began and impressive drive starting at their own 9 yard line. Once again the impressive Cherokee kicker made another field goal from 27 yards out and 5:43 left in the third quarter to make it a 14-13 game. North started its own drive and capped dot off with an incredible one handed catch from the 17 yard line answering Cherokee quickly. Cherokee intercepted another tipped pass returning it to the Wolfpack 42 yard line. #1 Easton Murphy strips the ball from Cherokee's #10 giving the ball back to North.
Starting the fourth quarter, Cherokee drove the ball to North's 8 yard line. As the running back was about to score, the Wolfpack stripped the ball again but this time it was recovered by Cherokee in the end zone making the score 21-19. Cherokee went for two to make it a 21-21 game with 8 minutes left in the game. #4 Kamron Bishop returns the kickoff for North to the Cherokee 47 yard line. Shortly thereafter Malmgren connects once again with Terrell for a 15 yard strike. North recovers the kickoff after a pooch kick almost guaranteed another victory for the pack. The Wolfpack tacked on another field goal near the end of the game with a final score of 31-21.
North remains undefeated at 5-0 and will be off next week before starting region play.
North Paulding Stats:
NP had 25 first Downs
Ross Malmgren was 26/40 with 258 yards and 3TD/3INT
Chad Terrell had 7 catches/105 yards and 2TD
Brian Mitchell had 6 catches/55 yards and 1 TD, 9 rushes/17 yards and 1 TD
Charles Benton had 1 interception
Easton Murphy had 1 forced fumble
Tyler Bird had 1 fumble recovery
Jalen Parks had 2 sacks
Logan Abney had 2 sacks
Braylon Fisher had 7 tackles, 3 for losses
Mickey Maguire 5 catches/55 yards
Garrett Hite had 3 catches/27 yards and 12 rushes/36 yards
Kamron Bishop had 107 Return yards
Kamron BishopGarrett HiteJaylen ParksRoss MalmgrenTyler Bird