CTC splits GCAA games as women hold on for 79-78 win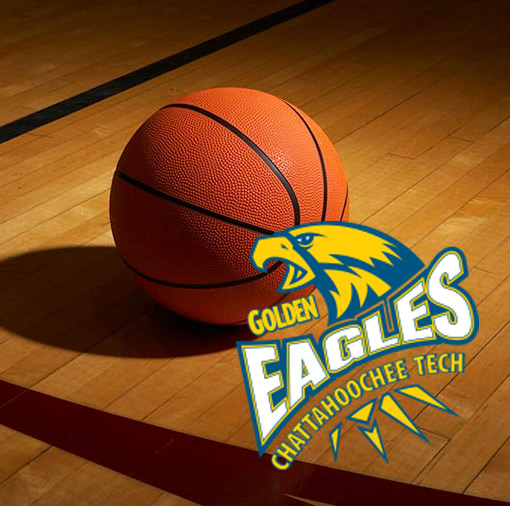 WALESKA – The Golden Eagles hosted GCAA contests at Reinhardt University on Sunday, as the women defeated Andrew College 79-78 and the men fell in a close one to South Georgia State 79-74.
The Lady Golden Eagles (15-4, 1-3) held on down the stretch after a big third quarter in which they outscored Andrew 22-15. The trio of Janelly Plummer, Mariya Trimble and Tymeshia Dozier carried Chatt Tech in scoring. Plummer scored a game-high 25 points (3-of-5 from three) with 10 rebounds, four assists, two blocks and five steals. Plummer was in the game for over 38 minutes to lead all players.
Trimble also had a double-double with 23 points on 10-of-18 shooting, 10 rebounds and five steals, and Dozier added 17 points and four assists. Jaylah Carr and Skylar Rossi each had six points, and Jaida Olodeji pulled down nine rebounds.
The men's team (13-4, 1-2) played South Georgia State neck-and-neck until the final minute, in which the Hawks pulled away. Chatt Tech got 19 points from point guard J.J. Simpson, who also had seven rebounds, eight assists and three steals in over 39 minutes of play. Philip Garner provided a spark in the second half from three, hitting four of seven shots from deep and ending with 17 points, his highest point total since scoring 18 on Nov. 4th.
Nkem Ojeh had 11 points, four blocks and three steals, and Jalen Mitchell added 10 points. Ben Drake grabbed eight rebounds for the Golden Eagles, who won the battle on the boards 40-36.
Both teams will be in action this Wednesday at their home court of LakePoint in Emerson, with the women's team in a non-conference game against Combine Academy at 5:30 p.m. and the men following with a GCAA game against Gordon State at 7:30.