Simpson named GCAA Division I Men's Player of the Week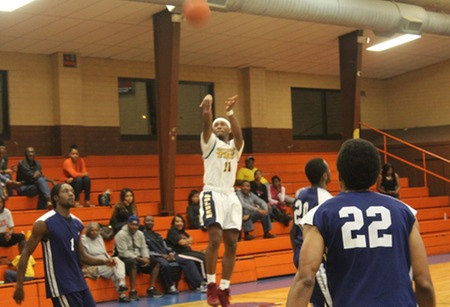 Chattahoochee Tech freshman guard Jamion "J.J." Simpson has been named the GCAA Division I Men's Player of the Week for Feb. 20-26. Simpson's play helped the Golden Eagles to two conference wins in three games in that span as he averaged 23 points, 4.8 rebounds, 4.3 assists and 2.3 steals per contest.
Simpson also shot 53.1 percent from the field and 64.2 percent from three (9-of-14) in addition to going a perfect 10-of-10 from the free-throw line for the week.
Simpson scored 24 points in a 96-91 win over Central Georgia Tech on Feb. 20 and 24 points in a 93-66 win over East Georgia State on Feb. 26, both at home. He scored 17 points in a road loss to Georgia Highlands on Feb. 22.
Simpson, a 6-0 guard from Bridgeport, Connecticut, who joined Chattahoochee Tech via Action Sports Academy in Stone Mountain, Georgia, is first on the team and second in the conference with 17.3 points per game. He is also second in the conference in steals per game at 2.8, second in minutes played per game at 32.3 and seventh in assists per game with 3.9.
Chattahoochee Tech concludes its regular season at Gordon State on Wednesday night at 7:30 p.m. The Golden Eagles hold a half-game lead for the No. 4 seed in the standings and would host a first-round GCAA tourney game next Tuesday with a top-four finish.