COUNTY SWIM CHAMPIONSHIPS
For the first time in Paulding County athletics the county high schools held a county swim meet involving all 5 high schools. The meet was held at the Cobb Aquatics Center in Marietta and North Paulding High School was the host of the inaugural event.
The meet featured 24 events and was a huge success drawing a large crowd from all the high schools and the competition was formidable between all schools.
COMBINED

NPHS-975
EPHS-722
SPHS-598
PCHS-246
HHS -153

MENS

NPHS-544
EPHS-369
SPHS-345
PCHS-161
HHS - 0

WOMEN

NPHS-431
EPHS-353
SPHS-253
HHS -153
PCHS-85
TOP SWIMMER MEN- Logan Peak(NPHS), Griffin Galyean(NPHS), Benjamin Buzzelli(NPHS). All tied @ 40 points.
TOP SWIMMER WOMEN- Sydney McKee(SPHS), Ashley Buzzelli (NPHS) also tied @40 points.
North Paulding's Blanton White swims the butterfly in the 200 medley.Paulding County's Hayden Bailey swims the 100 breaststroke.Hirams Ciaira Showers launches her leg in the 200 freestyle relay.East Paulding's Brooke Putman ready to swim the anchor leg in the 400 freestyle relay.South Paulding's Alyssa Jones eyes the scoreboard after winning the 200 freestyle.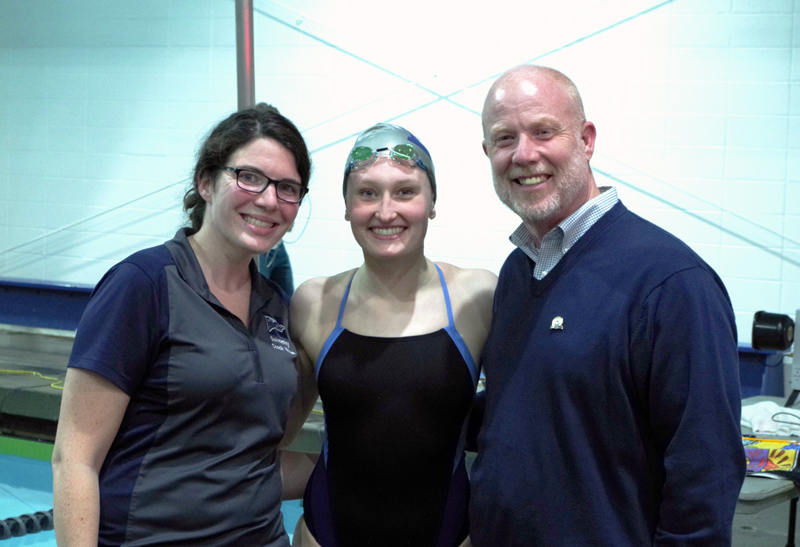 All smiles after the inaugural swim meet are NPHS head coach Kaitlen Woods, Ashley Buzzelli and Paulding County Superintendent Brian Otott. The meet was the brainchild of coach Woods and has been an endeavor of hers eight years in the making. Congratulations to all involved in making this a successful event.