Cross Country Battles the Heat
Saturday 15th the East Paulding Raiders team raced at Allatoona Creek at the Big Peach Mustang Stampede against 20 teams. This was the first week that East was paired up in a race with other county teams during this 2018 season.
Varsity girls started the high school races off at 8:30am. Emmalee Watkins (10th grade) led the Lady Raiders for the entire race, pressing the pace early and finishing with a season-best 24:04. Not too far behind were Ayo Sogbesan (season-best 24:21) and Katie Criswell 24:34 in her first race of the season. Rounding out the top 5 were Brylie Galeazzo and Felecia Celeste. Overall the coaches were happy with the performances of their girls who stepped up and ran without four of their top five.
Varsity boys were next and like the girls, the boys ran a depleted squad, resting those that had raced the past few weeks without a break. Kaleb Scott was the top finisher for the boys running a very even race throughout, moving up over 30 spots from mile 1 to finish. He ran a time of 17:44 (23 rd overall) which was a season-best, about 10 seconds back of North Paulding's top 3, setting up a showdown this weekend at the Paulding County Championships. Alfonso Garcia was back in the fold running a season-best as well 18:36 for 59th overall. Rounding out the top 5 were Austin White (19:41), Chazz Lauderdale (19:57), and Patrick Reeder (20:07). This led the boys to 14th place without 3 of their top boys.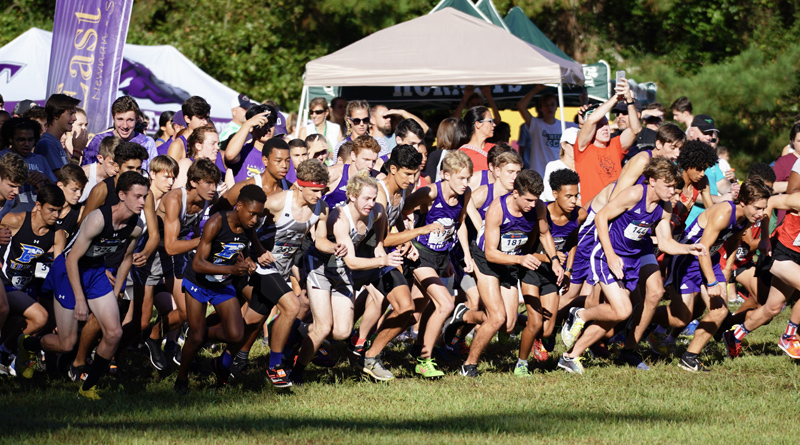 Both JV races were during an incredible heat, but the runners fought through to the finish. Top finishers from the girls were 8th grader Kendall Pitts, 10th grader Catherine Basch, and 9th grader Hannah Hogan. The boys were led by two top 10 finishes in 10th grader Owen Senecal and 8th grader Eli Corn. Logan Steele, Markus Ruiz, and Greyson Hilber rounded out the top 5 for East. Coach Ford said, "over half, the team ran season bests or close to it on an extremely hot day. This was a good chance for us to see the other county teams and a few region teams on the same course and in the same conditions. We are back to work for County for the upcoming weekend but are excited on where the team is heading."
East Paulding will be racing at the Paulding County Championships on Saturday, September 22 nd at White Oak Park.