Paulding County Lady Patriots Soccer make State PLAYOFFS once again and celebrate SENIOR NIGHT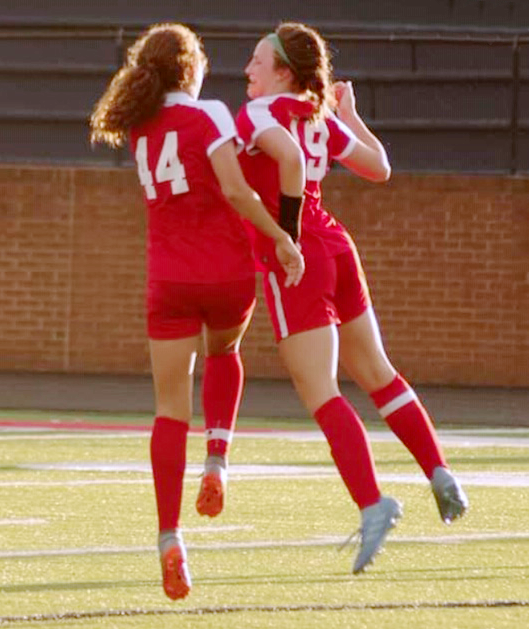 As the Paulding County Lady Patriots ended their regular season this week, the 11 Seniors on this Varsity team celebrate moving on to state playoffs once again. For these girls this is the 3rd time in the last 4 years they have reached this goal; qualifying this year, 2017, and making it to the sweet 16 in 2016. "The Women's Soccer team is the only high school sports team at PCHS other than competitive Cheer, that have accomplished this," says Head Coach Matt Putman, who also celebrated his 100th career win with this team earlier this season.
In March 2019 the Lady Patriots Varsity team had another FIRST for PCHS: They traveled to Jekyll Island to participate in the statewide Tournament of Champions, setting the foundation for future years. Coach Putman hopes to make this an annual event that keeps PCHS on the map and allows for team bonding. (Image below).
The Lady Patriots team, lead by Senior captains Brooke Fitzgerald, Nicole Frey, Maeghan McKean, and Stephanie Hahn, is full of athletes who are not only adept on the field but are achieving huge successes in the classroom as well. With over half the Varsity team, 12 out of 22 players being enrolled in the school's Magnet program "The Academy for Science, Math, and Technology", they have bright futures ahead. The ceremonies on Senior night (pictured below) revealed the fall college plans for the following seniors: GA TECH (K. Semper and N. Frey), UGA (B. Fitzgerald and M. McKean), North Georgia (D. Black), Gordon College (S. Hahn), Valdosta (Z. Cooper), Berry College (K. Pile), and Piedmont (C. Lewis).
Congratulations to this amazing team of girls! To catch them in action plan to come out and support their playoff game tonight, VS. GRADY, Tuesday the 23rd at 5:55 pm at Grady High School in Atlanta.