Superintendent's Cup Presentation on Friday Night at South Paulding High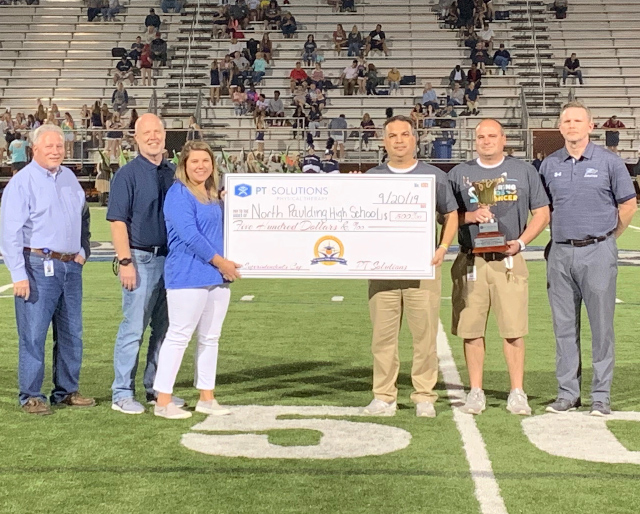 Sept. 20th, On Friday night at halftime of their game against Woodstock, North Paulding High School, was presented with the Superintendent's Cup, sponsored by PT Solutions.
On the field for the presentation were Brooke McKelvey, representing PT Solutions, Dr. Brian Otott, Superintendent of the Paulding County School District, Clark Maggart, Associate Superintendent, Mr. Gabe Carmona, Principal of North Paulding High, North Paulding Athletic Director, Ryan Dyer, and Jason Freeman Director of School Administration & Athletics for the Paulding County School District.
Established prior to the 2007-2008 school year, the Superintendents Cup sponsored by PT Solutions has presented annually to the high school in Paulding County that has the best overall athletic department based on overall success.
The beautiful Superintendent's Cup will remain on display at North Paulding High for the 2019-20 school year.
In addition to the Cup, Ms. McKelvey will be presenting a check for $500 to the general athletic account of North Paulding High School.
The Paulding County School District is proud of its association with all Partners in Education. Special thanks tonight to PT Solutions for their commitment to our community.