Esports Meets EPHS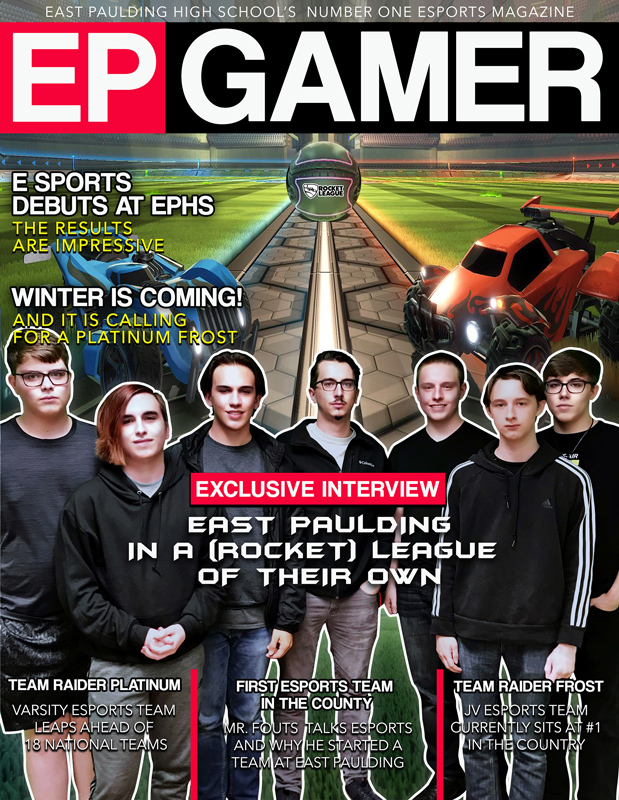 East Paulding High School has the only esports program in Paulding County School District. Esports is a sporting competition using video games; it has become increasingly popular due to technological advancements in modern gaming and its accessibility during the COVID-19 pandemic. It was formed in 2019 at the request of the student, Trevor Wilkinson (sophomore), which brought to light a serious interest to pursue careers or collegiate pathways in the GHSA sport by many students. According to this NBC article, 200 schools in the U.S. offered $16 million in scholarships to esports athletes; for East Paulding esports, this has been a huge motivator for hobbyist students to take their game to the next level.
The first varsity team formed at East Paulding High School, Raider Persona, competed in SMITE, a free-to-play, online battle arena (MOBA) featuring mythological heroes, gods, goddesses, and other figures such as Cupid and Mulan. Raider Persona was named in homage to the hit video game series, "Persona". They, like many teams in the league, chose to compete under aliases inspired by their favorite video game or character. In March of 2020, due to the government shutdown, the Raiders were met with difficult circumstances that caused them to lose access to their high-performance PC's in the school thus making the team unable to compete until the fall.
Esports has returned to EPHS with more players in the 2020-2021 school year despite the fact that they cannot compete from home as per GHSA rulings. The varsity esports team, Raider Platinum, and junior varsity team, Raider Frost, are competing in Rocket League which features monster trucks and similar vehicles that use turbo boosts to hit a giant soccer ball into goals. They are lead by the team captain, Steve Kish (senior), who has spent many hours researching strategy, building relationships with each player, and communicating with Coach Fouts on building the esports program. In addition, Steve is cadet Lieutenant Colonel in JROTC with plans to attend the University of North Georgia.
As of November 13th, 2020, the junior varsity team, Raider Frost, is tied for #1 in the Regional Standings with seven teams out of 383 total rankings (nationwide). Raider Platinum, the varsity team, is #31 in the State Rankings out of 63.
Please consider supporting the esports team and their initiatives to expand their program by donating through Revtrak Donations or becoming a sponsor by contacting Coach Fouts. The teams currently have five esports gaming PC's, but they need six to efficiently compete in two simultaneous matches. Moreover, these donations will provide opportunities for EPHS students to pursue esports in college, professional leagues, and receive scholarships.