Three Golden Eagles named All-Region, Grimsley ends season as nation's leading scorer and GCAA men's tourney seeding set. DEMOREST, Ga. – Two Golden Eagles men and one Lady Golden Eagle picked up All-GCAA accolades after the completion of the regular season, with A.J. Mosby making the first team, Aysia Grimsley making the second team and Ryan Davis earning honorable mention status for the 2015-16 basketball season.
Mosby, a sophomore from Cartersville High School, earned his second all-conference first-team nomination as a Golden Eagle, as he was also named the GCAA Freshman of the Year last season. The 6'2" guard leads the team and is second in the conference with 18.4 points per game. Mosby is eighth in the conference in assists per game at 3.9 and third in steals per game with 2.5 to go with 4.7 rebounds per game. He finished the regular season shooting 52 percent from the field, 38.7 percent from three and 77.6 percent from the free-throw line. He has played the fourth-most minutes in the league at 31.3 per game.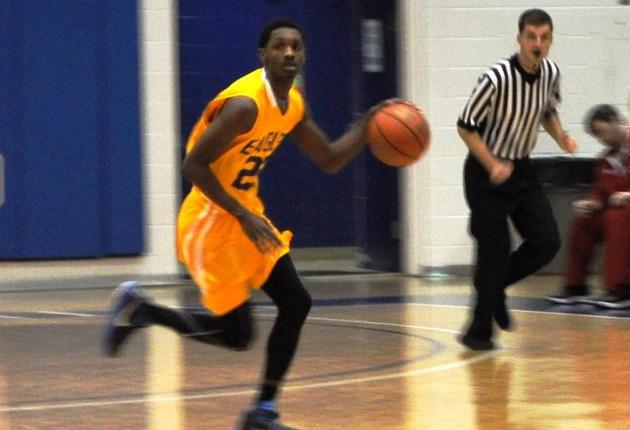 Mosby scored over 30 points twice, going for 33 and 36 in back-to-back wins at South Georgia Tech and versus Southern Crescent Tech, respectively, on Jan. 11 and 14. His half-court buzzer-beater at South Georgia Tech lifted the Golden Eagles to a crucial 90-89 GCAA road win. He also scored 27 points three times and broke the 20-point mark nine times.
Grimsley, a sophomore from Sprayberry High School, capped off a historic season for Chatt Tech with a second-team nomination. The 5'5" guard finished her season leading all of NJCAA Division I women's basketball with a per-game scoring average of 29.8, with the nearest competitor scoring just under 23 points per game. She eclipsed the 30-point mark 11 times and exploded for a season-high 51 points in a home loss to West Georgia Tech on Nov. 21. Grimsley also scored 39 points in back-to-back games on Dec. 6 and 9.
Grimsley was also first nationally in total points with 745, first in minutes per game with 38.8 and first in free throws made and attempted at 260-of-357 (72.8%). She also averaged 5.4 rebounds and 2.0 steals per game. She had four double-doubles with points/rebounds on the year.
Davis, also a sophomore and Mosby's former high school teammate at Cartersville, is ninth in the conference with 13.1 points per game. The 6'4" guard is also averaging 5.6 rebounds per game, 5.0 assists per game (5th in GCAA), 2.0 steals per game (6th) and 30.3 minutes per game (5th). He finished the regular season shooting 50.8 percent from the floor.
Davis scored a season-high 32 in the Jan. 11 road win at South Georgia Tech and reached the 20-point mark five times in total, scoring 27 and 25 in home wins against Gordon State and East Georgia State, respectively. He also has six double-doubles, four times with points/rebounds and twice with points/assists.
Men's season continues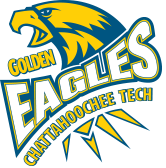 With their 78-69 home win over Atlanta Metro on Sophomore Day, Feb. 21, the Golden Eagles men (21-9, 8-8 GCAA) helped clinch the fourth seed in the nine-team conference. As a top-four team, the Golden Eagles earned the right to host a first-round tournament game this Tuesday night, when Atlanta Metro will return to the Smyrna Community Center. Chatt Tech lost 73-64 at Atlanta Metro in the teams' first meeting on Feb. 15, splitting the regular season.
Chatt Tech and Atlanta Metro also met in the final regular-season and first-round games last season as the No. 4 and 5 seeds, with Atlanta Metro pulling out a 76-74 win at the Smyrna Community Center. The Golden Eagles will be looking to return the favor this season against the Trailblazers (15-15, 7-9).
In the Feb. 21 meeting, the Golden Eagles cruised to victory, jumping out to a 39-25 lead at halftime. Corey Tobin (Cartersville) broke out with a season-high 23 points on 7-of-11 shooting from three, and Mosby (14 points), Davis (13 points) and freshman forward Keith Ray (11 points; Hillgrove) also broke double-figures. The talented duo of Brice Booker (24 points) and Carnilious Simmons (22 points) were the only two players in double-figures for the Trailblazers.
Should the Golden Eagles win Tuesday night, they would continue on to the semifinals, both of which will be hosted this Friday by the highest remaining tournament seed. The championship game will be hosted by the higher seed this Saturday. Georgia Highlands (16-0), South Georgia College (11-5) and Central Georgia Tech (9-7) also host first-round games this Tuesday.
The Lady Golden Eagles concluded their season on Feb. 21 with a ninth-place GCAA finish.