The South Paulding Spartans advance to Sweet 16 (2nd round) in the State Playoffs in Boys Tennis for the second consecutive year. The team placed 4th in Region 5 AAAAA earning them the opportunity to face Apalachee High School, who was Region 8 AAAAA champions.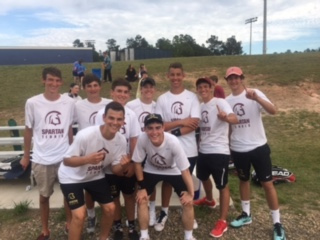 Apalachee hosted the Spartans on Tuesday, April 19, 2016 where the Spartans demonstrated their focus and determination. The Spartans won this match 3-2 but the score truly does not tell the entire story. Kinser Quinones, the Spartan Senior Team Captain and #1 singles, and Parker Berry, the # 2 Singles, fought gallantly but eventually lost their matches. Cole Henry, # 3 Singles, won his match in two sets along with Doubles # 2, Jayce Landrum and Grant Cartwright doing the same. With the score 2 – 2 the match was riding on Grayson Hardy and Shane Wisehart, the # 1 Doubles. They found themselves tied 1 set a piece and down 5 – 1 in the determining set with 6 wins being a winner. Shane and Jayce refused to allow the large and vocal home crowd of spectators to rattle them for long. They fought through several match points to end the match victoriously 7 – 5.
The Spartans moved forward to the Sweet Sixteen as the lone representative from Region 5- AAAAA in Boys Tennis. Coach Strickland was heard congratulating the team and telling them, "You never cease to amaze me with your determination and support of each other."
The Spartans will travel to McIntosch High School and face the Chiefs, who took 2nd in Region 4 AAAAA at the Peachtree City Tennis Center.
Picture: Back Row Left to Right: David Hill, Grant Cartwright, Mitchell Kersey, Parker Berry, Kinser Quinones, Cole Henry, Jayce Landrum
Front Row Left to Right: Grayson Hardy, Shane Wisehart
Not Pictured: Ashton Smeltzer and Jake Strickland Coaches Dennison Strickland and Michael Skelton